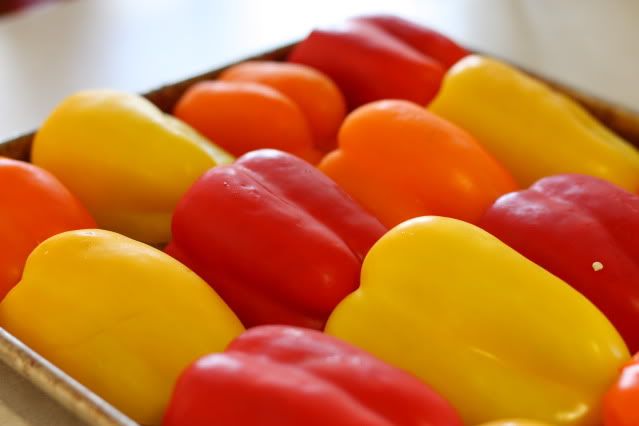 A couple of years ago a Trader Joe's opened up in our area. I avoided it like the plague for the first couple of weeks before braving it with the then much younger boys. It was right before the holidays, thus very packed and of course they were handing out samples.
Stroopwafels
, yum and how I miss thee. The orange chicken was tasty of course and then we turned a corner to see an employee handing out little cups of cream of roasted red pepper soup. Oh my word, how delicious. I definitely loved it but what raised my eyebrow was that not only did the boys love it, they loved it more than the stroopwafels. I know! So I bought a tetrapak of the soup and heated it up that evening along with some grilled cheese sandwiches. It was a hit. However, that little tetrapak? Didn't go very far and was pretty pricey. A little sleuthing on google though and I found this recipe on the cooking light forums a couple of years ago. It would be risky to present a different version to the same family that had now fallen in love with the Trader Joe's version but thankfully it was a pretty close replica and has been part of our soup repertoire for ages.
Cream of Roasted Red Pepper Soup
adapted from Cooking Light Forums
4
red
bell peppers
1 onion -
finely chopped
2 tablespoons butter
1 sprig fresh rosemary -
or about 1/2 teaspoon dried rosemary
5 cups chicken broth
3 tablespoons tomato paste
1/2 cup heavy
cream
salt and freshly ground
pepper
This soup is dead easy to make. The only step that takes a bit longer is roasting the peppers, but by using the broiler you save yourself the trouble of standing over a flame with each. individual. pepper. Wash and cut the peppers in half. Remove all the seeds and white parts of the ribs. Then place cut side down on your baking sheet and if you have more room than I did (I was making a double batch as usual), squash/flatten the pepper with the palm of your hand.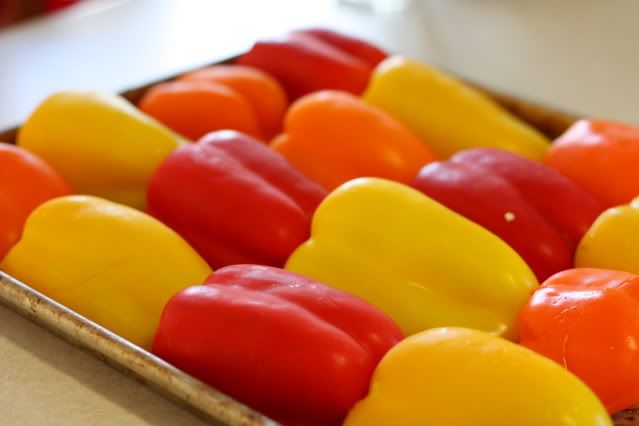 Then place the pan under your broiler and let them char for 15-20 minutes turning the pan once or twice for an even char. You want all of the pepper to char (yes burn) because the parts that don't char are difficult to peel after roasting.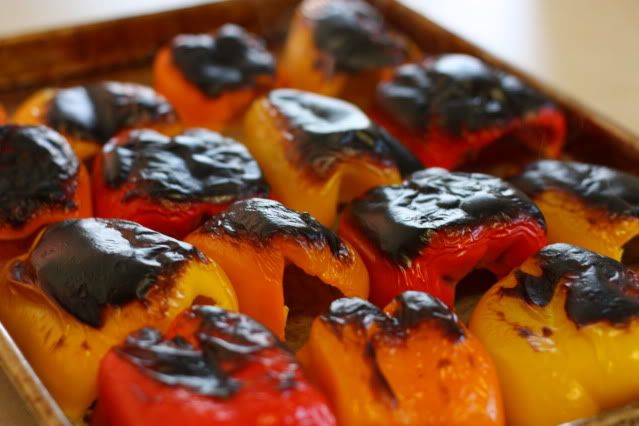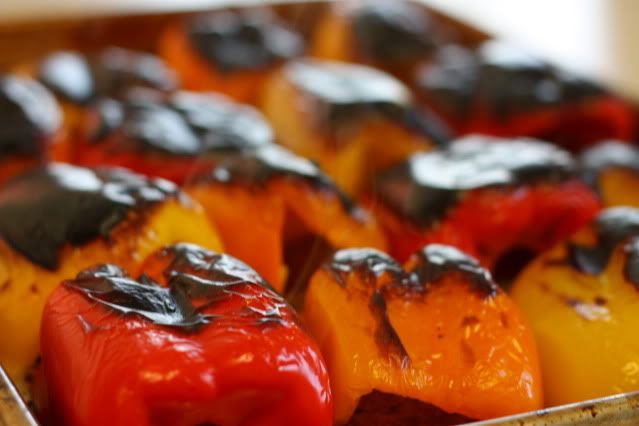 While still piping hot, place the peppers in a bowl and then seal with plastic wrap.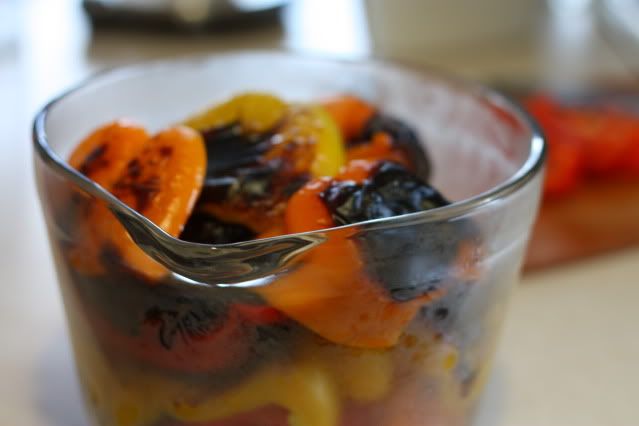 That green contraption you see on my bowl is a
silicone universal lid
, my answer to plastic wrap when possible. I get a kick out of using the sealing function but also use it upside down (vented) in the microwave. Let the peppers rest and steam for about 20 minutes.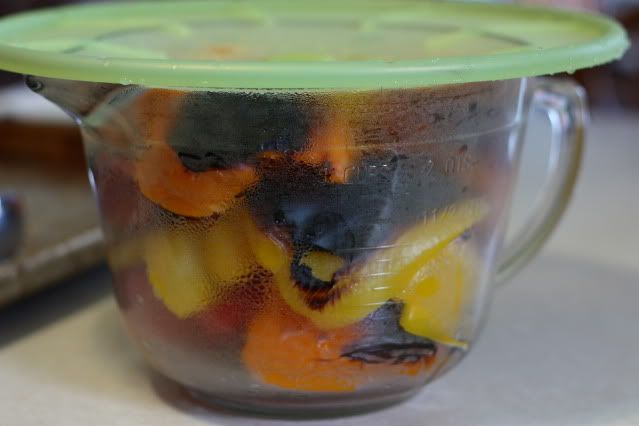 Once the peppers have steamed, they will be slightly cool enough to handle and the skins easy to slip off. Peel the peppers and set them aside.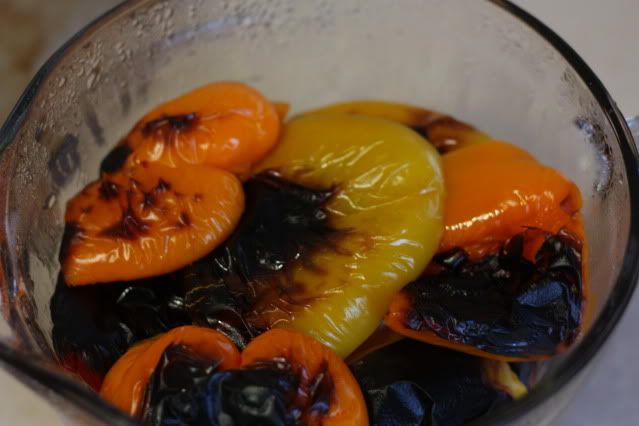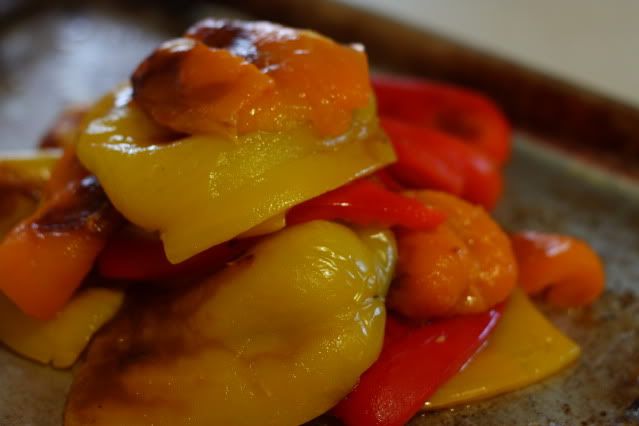 Whatever you do, don't throw out this liquid! That is essence of pepper and you'll want to reserve it with the peppers to add to the soup pot.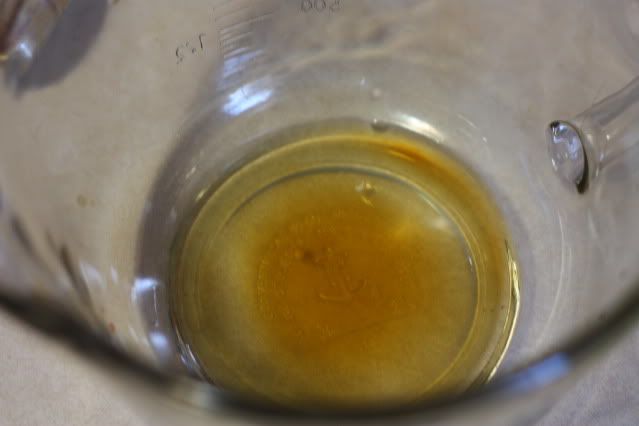 Meanwhile, back at the ranch. Toss your onions and butter into a deep pot and cook over medium heat for about 5 minutes or until the onion is softened.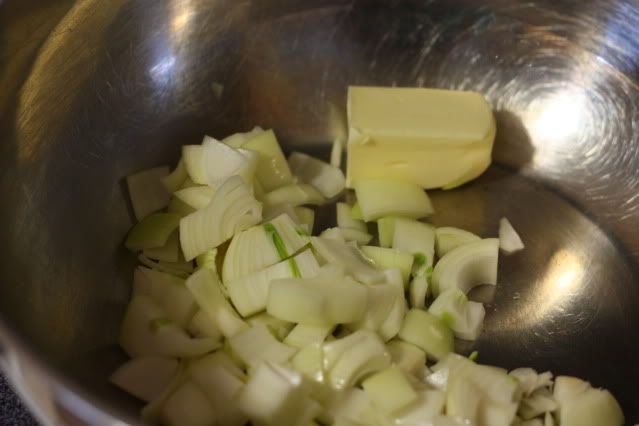 Being too lazy to walk out in the backyard to get some rosemary (or face the current condition of my garden) I dug out the dried rosemary and put it in my little tea ball.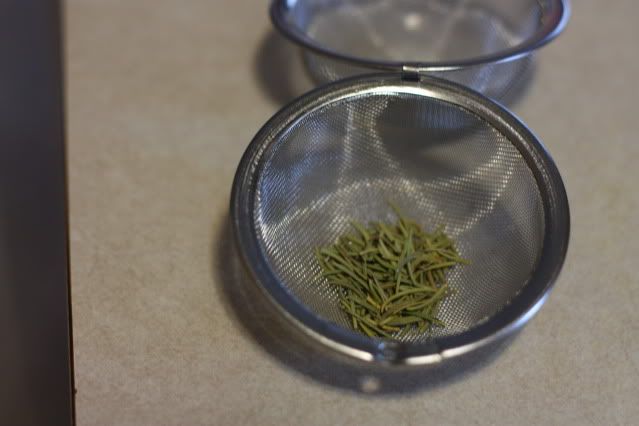 Toss the rosemary into the pan.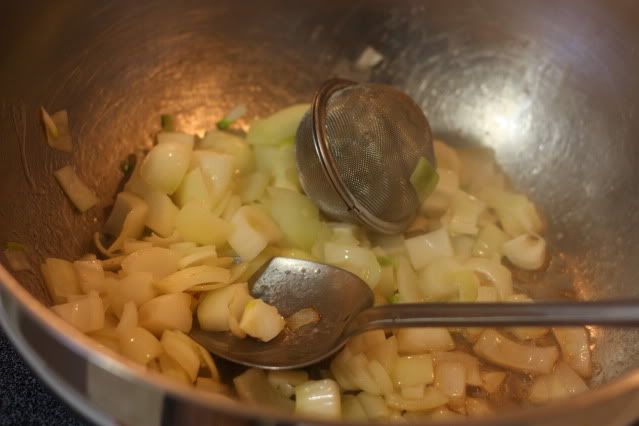 Add the peppers and the liquid from the peppers.
Next in, the broth.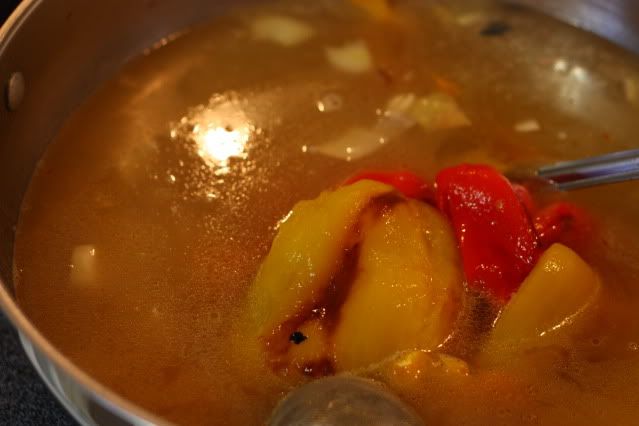 Finally, add the tomato paste.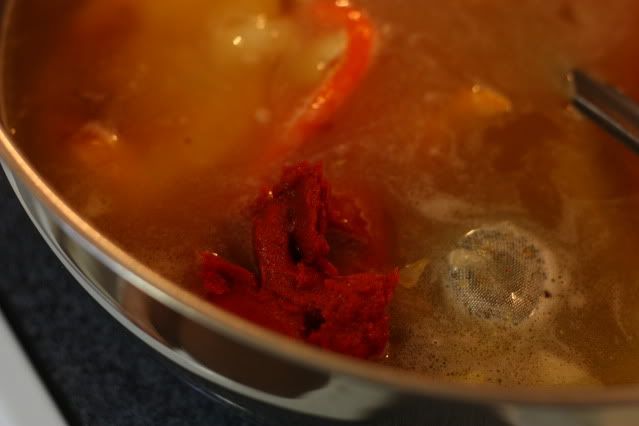 Bring the soup to a simmer and allow to simmer for about 15 minutes.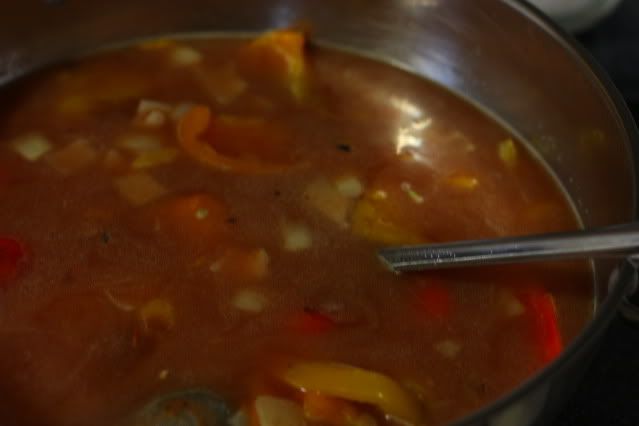 Once the soup has simmered (and the sun has almost set, darn winter light!) fish out the rosemary and discard.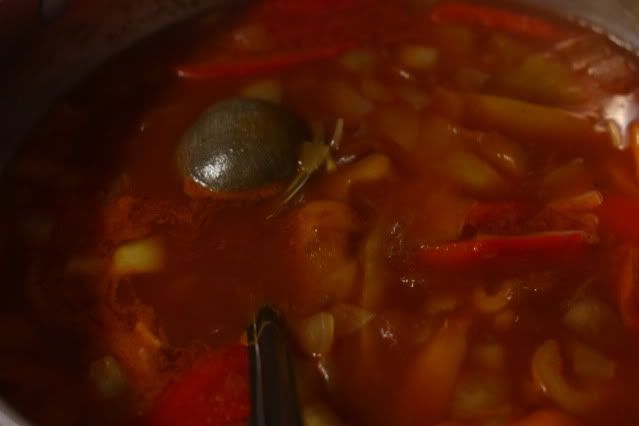 Whiz the soup up in your blender (or if you're like me with the stick blender) until very smooth. Season with salt and pepper.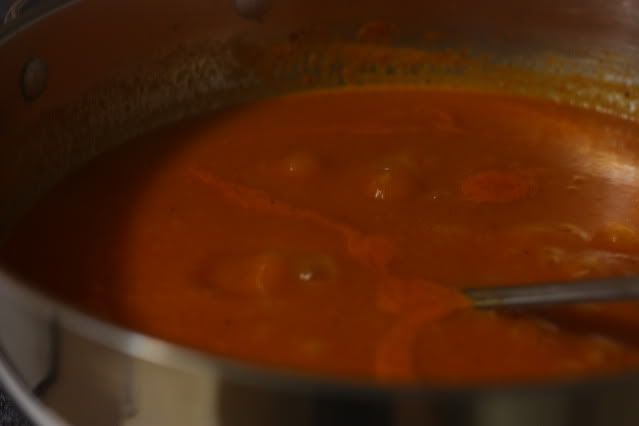 Then drizzle in the luscious cream and reduce the heat to medium low at this point.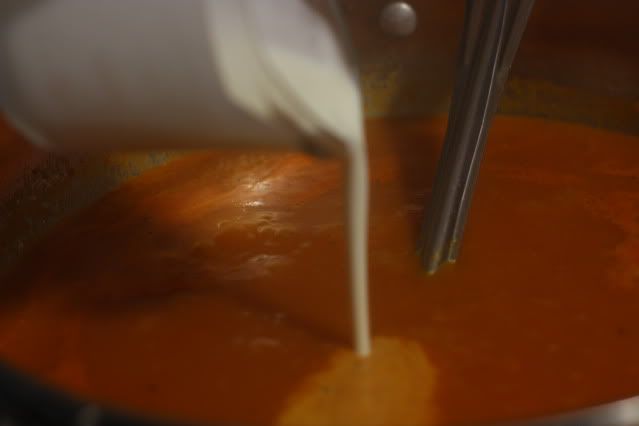 Mine was a bit more bright orange than usual due to the varied colors of peppers I used.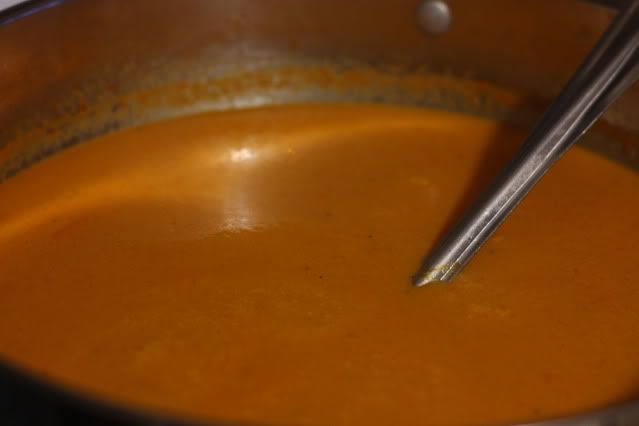 Then it's ready to serve. I usually dollop a bit of sour cream in the middle to cool it for the youngest. What to serve with it?
Divine breadsticks
are a regular for soups around here. Grilled cheese is of course, a classic. Or just cut up large hunks of bread, toss with garlic, olive oil and salt then crisp up in the oven and toss those garlicky croutons into the soup.