Okay, now it's down to the nitty gritty - production line pastelito making. Although I really enjoy tinkering in the kitchen, repetitive tasks like these just aren't too enjoyable. I plod through it considering it a necessary evil in order to have my beloved pastelitos.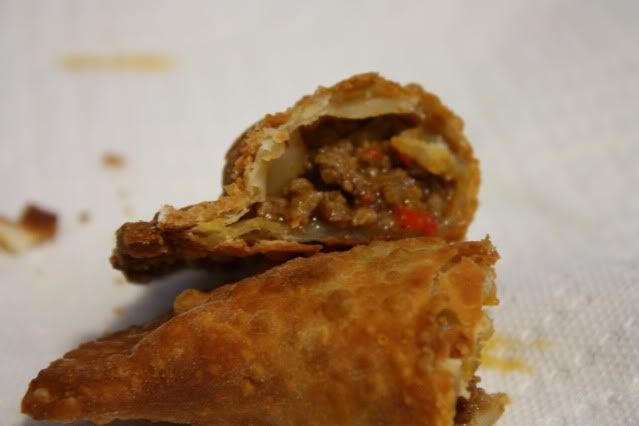 Your tools: A shallow cup with water for sealing the dough, a fork, and some flour to prevent sticking. If you're lucky enough to have family around then use them! Even the most inexperienced cook can crimp pastelitos. Heck, that was my task as a kid and when you think that I got to sit around and listen to the adult gossip (whoo boy!) it was a small price to pay.





As Alton Brown would say, the software. Empanada dough discs found in the freezer section of the local latin market. Goya, La Fe, El Sembrador or Rico - take your pick. Just make sure it's for frying empanadas and I usually inspect them sideways to pick the company that rolls their discs the thinnest. Dominican pastelitos are traditionally smaller and round versus a half moon shape but this is simply an immigrant adaptation common throughout the states. Also you'll need the beef filling you diligently made before.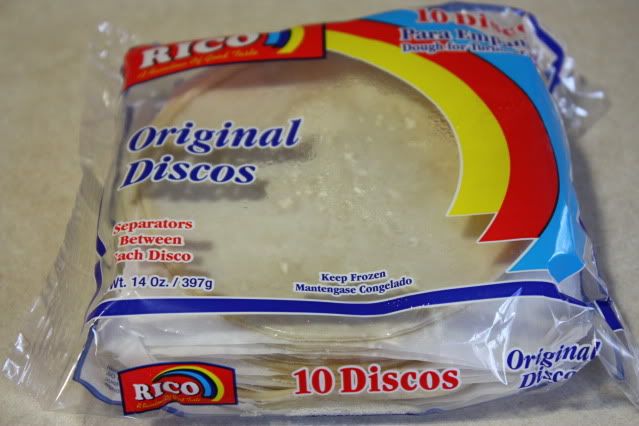 Read your package for thawing instructions. Mine said two hours at room temp and that worked out just fine. I've also had luck with holding some in the fridge (sealed) for a day or two without the dough drying out too much. Each disc is separated with a piece of wax paper to make lifting it easier.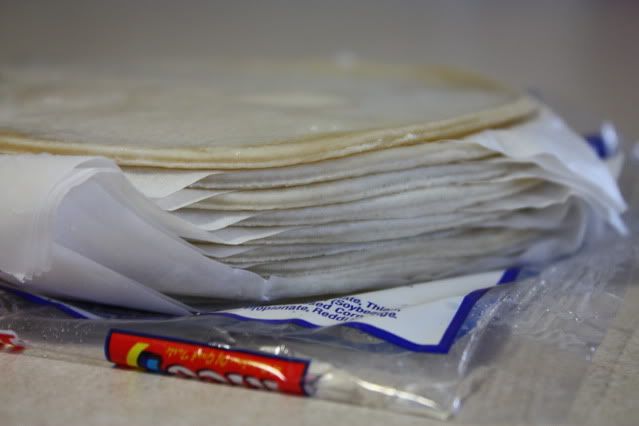 First, a light dusting of flour.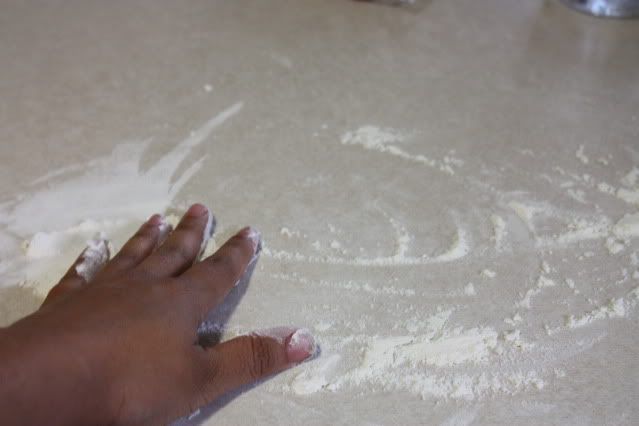 Then grab one disc and place it on your work surface. If my father were around (my home that is, he's alive and kicking in South Florida - hey papi!) he would insist that the dough is too thick and needed to be rolled out thinner. My dad likes to give lots of advice in the kitchen but from afar. It's not like he's volunteering his muscle to break out the rolling pin, know what I mean? I just use them straight out of the package. When I make my own dough I make them a bit thinner.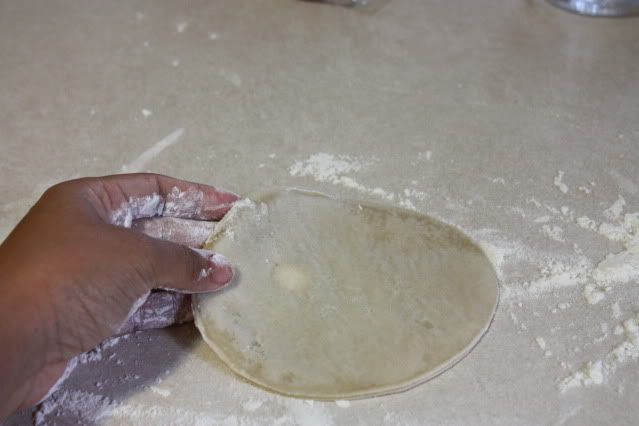 Dip your finger in the water and wet the outer edge of

only half the disc.

Make sure to wet only half the disc or you'll have a very slippery mess on your hands when it comes time to crimping.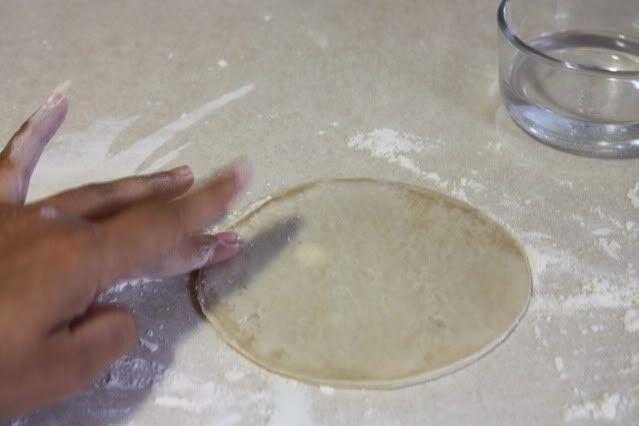 Place your filling in the middle of the dough disc. A few tips, 1) I use about 2 tablespoons per 5"ish disc. Too much and you can't seal it, too little and people will talk behind your back about being stingy with the filling. Ooops, did I say that out loud? 2) Keep your filling tight and compact in the middle, it will be easier to seal the dough.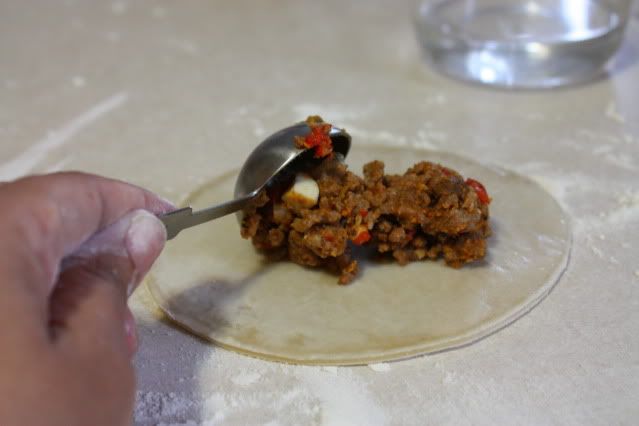 With both hands (for those of you not taking pictures with the right hand that God blessed as your dominant one), stretch the dough over the filling and begin to press your thumb around the outer 1/2" edge of the pastelito, pressing down firmly. As you go from one edge of the half moon to the other, press out any air around the filling. Doing this will prevent your pastelito from exploding like a balloon in the hot oil, which while fun to watch is not fun to clean up.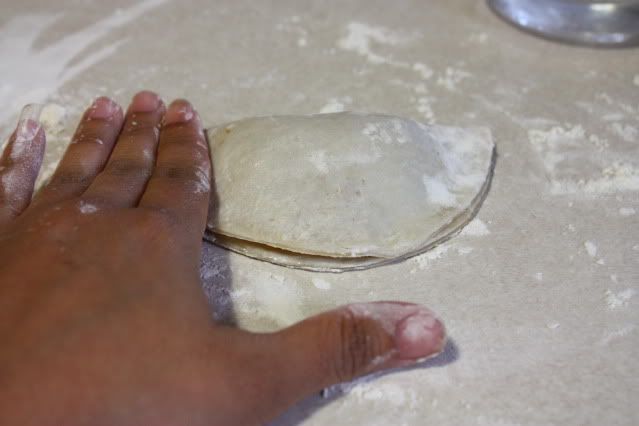 Then take your fork and crimp

very firmly

around the 1/2" edge you just pressed down with your thumb. You want to press the fork all the way to the counter, fusing both layers of dough. Again, skimp on the pressure here, pay later. Also, crimping looks much prettier when you're not taking pictures and telling your three year old to leave the baby alone.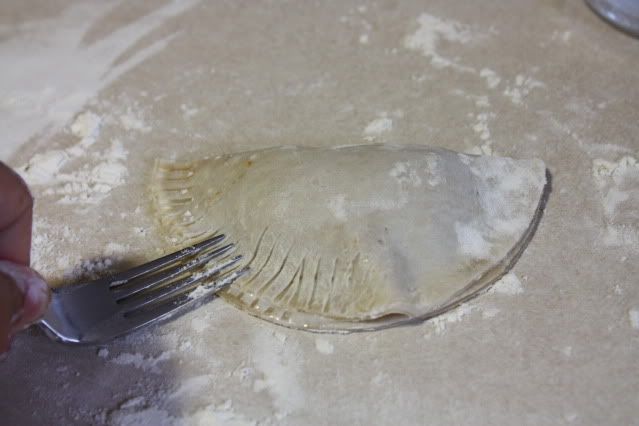 Wash, rinse, repeat. Ad nauseum. Did I mention this was my least favorite part of the process? I place my finished pastelitos on a sheet of parchment or wax paper on top of a sheet pan. I tuck that in the freezer and as I crank out more pastelitos, I add another sheet of wax paper on top of the bottom layer and stack more on top. When they are all frozen I use a clean box lined in wax paper or foil to make layers of frozen pastelitos that stay tucked in my freezer ready for frying.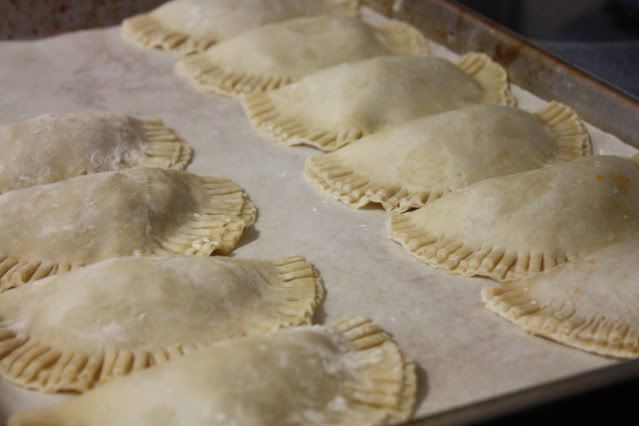 Now, I'm going to show you my fancy schmancy fryer. Prepare yourself because you can't buy this at Williams Sonoma, Sur La Table or Crate and Barrel. This is a very precise kitchen tool for only the serious fryer.

wait for it . . .



wait for it . . .



wait for it . . .



wait for it . . .



Ha! Check THAT out! Okay, I know I'm evil. It's not fancy, nor schmancy and while you

could

buy the enameled cast iron pot and meat thermometer at the afore mentioned kitchenware stores I'm pretty sure they don't sell clothespins. My pot is a Martha Stewart Kmart special I bought ages ago, about 5 quarts and it's only used as my fry pot.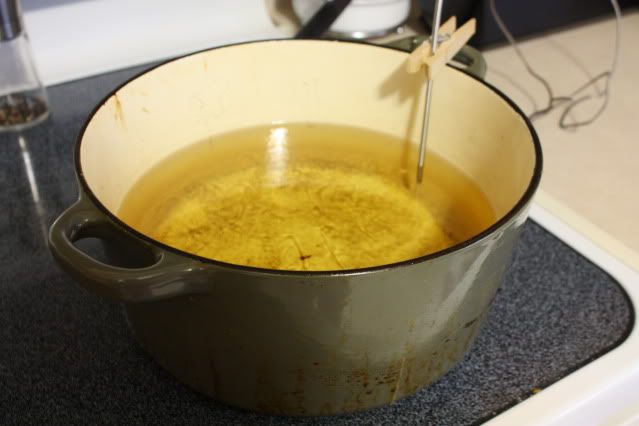 I've had fancy fryers before. All sorts of models, purchased from all manner of stores and they are

all

a pain to clean. Even the pro-looking models with the heating element that is inside the oil and the rest of the parts that "are dishwasher safe". Yeah, a dishwasher will not touch the gunky oil buildup from even one fry session. My pot is low tech, and easy to clean. Mr. Maricucu keeps telling me we should buy a propane outdoor fryer and I just refuse to entertain that conversation unless he commits to doing the frying himself. I can't go out to the deck or garage to fry something with three kids to supervise.

The thermometer probe is held on the edge of my pot with a clothespin to keep the tip of the probe from touching the side or bottom of the pot and giving a false reading.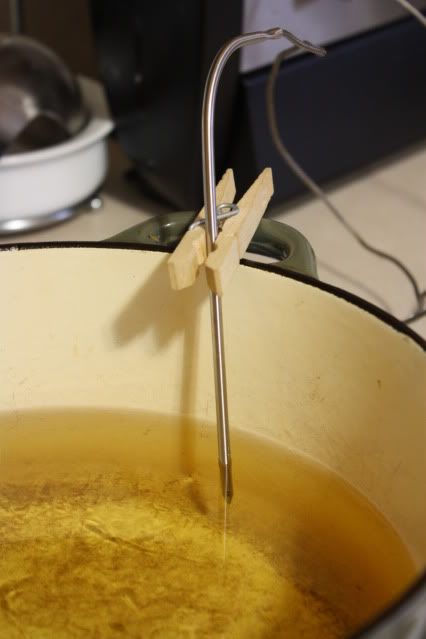 The probe is of course hooked up the the display of the thermometer. When I use it for frying or as a candy thermometer I just pay attention to the actual temperature on the bottom right hand corner.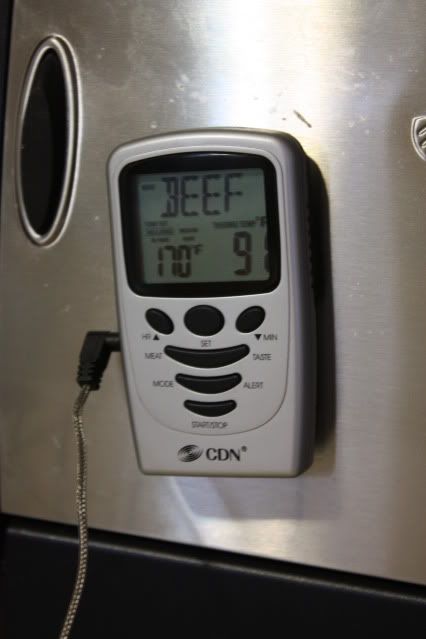 So, just preheat your oil on medium heat to the 350-375 degree range. Within this temperature range and about 4" of oil, the frozen pastelitos will fry in about 3-4 minutes total. Here are my frozen pastelito bricks waiting for a dip in the oil.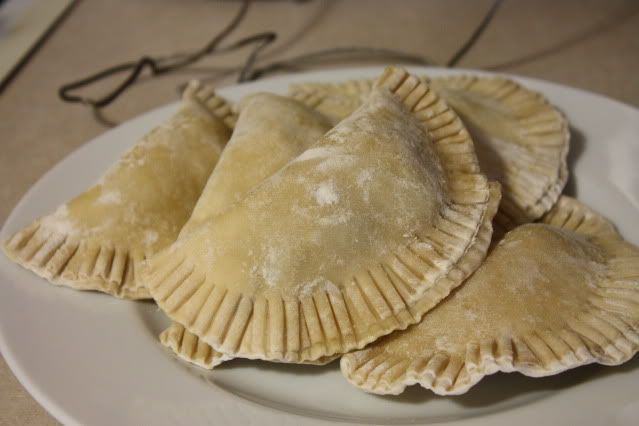 Once the oil is hot enough, add your pastelitos carefully. Pastelitos are pretty dry on the outside so they won't splatter but the oil will bubble up profusely so make sure your pot is deep. I usually put in three at a time which fit in my pot just fine without tanking my oil's temperature.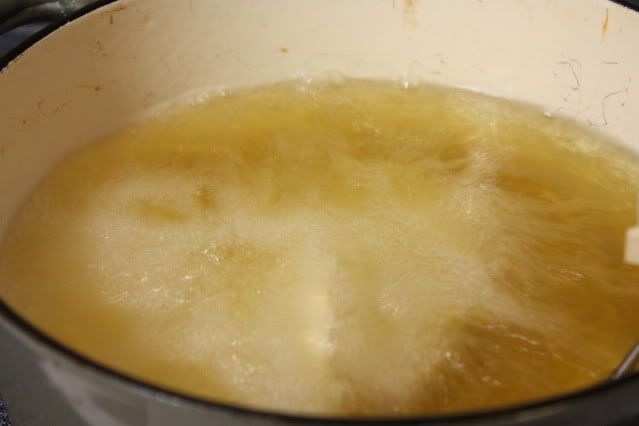 Within about 30-45 seconds flip the pastelitos to the other side. If you don't do this right away the steam in the filling will produce an air bubble that won't allow for flipping later on. So just flip right away to get the oil to seal the other side of the uncooked dough and let the pastelito fry for about 3-4 minutes total, flipping once or twice for even cooking.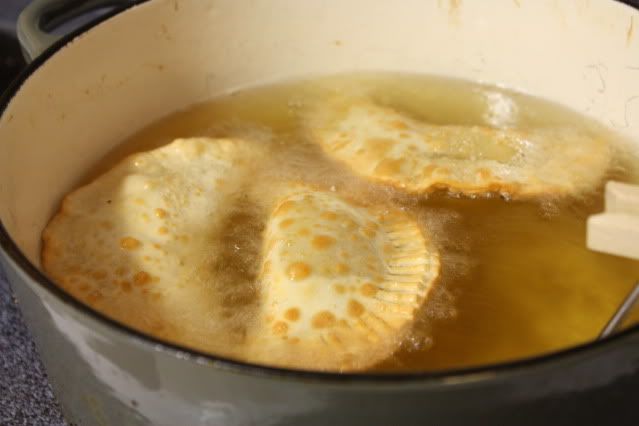 Getting closer.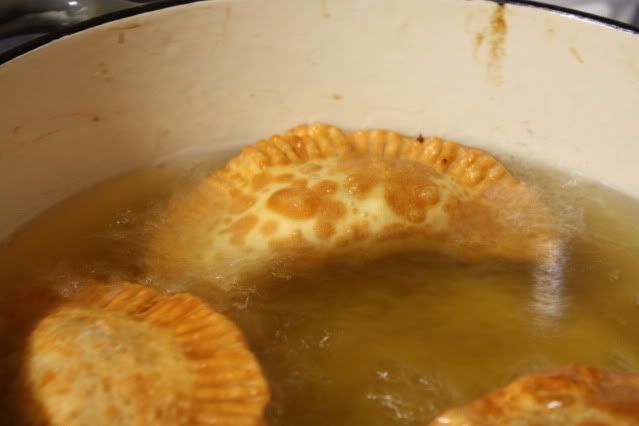 And we're there. Deep golden brown but not burnt (please be careful, it's a fine line). This is the moment that makes the work worth it.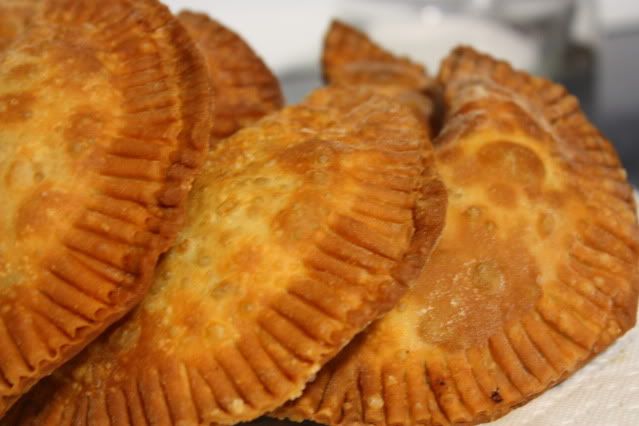 The sign of a well fried pastelito - tiny bubbles on the outer surface of the crust.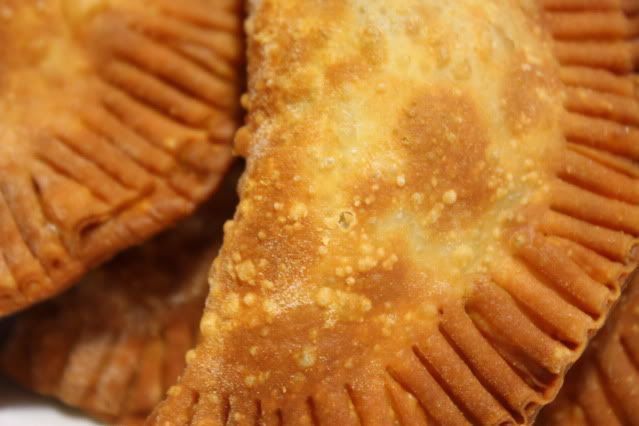 Sniff, look at that filling. Not too wet, not too dry. Let the pastelito cool for several minutes before trying to eat it. Also you'll notice in the above picture that they are slightly propped up on top of each other. There's a method to this madness. When you prop them up after frying like this the little bit of moisture present in the filling falls to the bottom corner. That way when you take the first bite, you don't end up with a hot Mt. Vesuvius on your linen chacabana. A pastelito is party finger food, meant to be eaten standing up with a napkin catching minimal leaking and crumbs.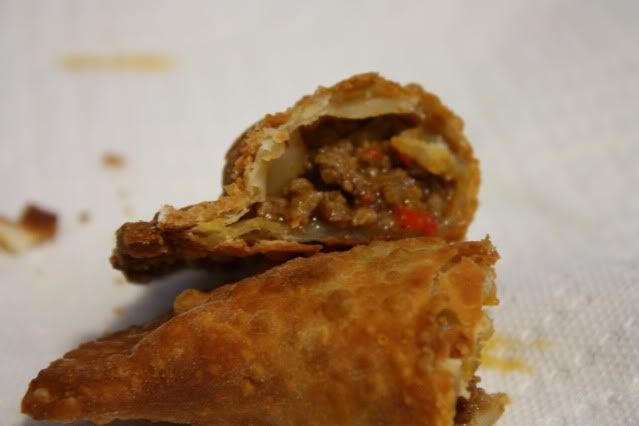 Oh my, I could just inhale these. Hope you enjoy them. Some time soon I promise to share the chicken pastelito and the homemade dough.