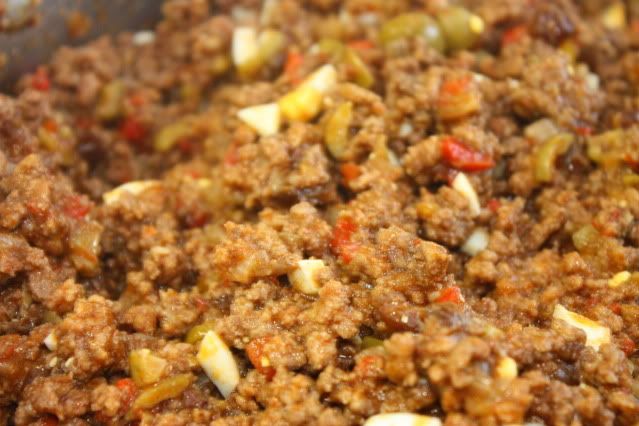 Please indulge me for a moment. You know how everyone has that

one

comfort food that does it for them? Something from their cultural background or childhood that only one person in their family knew how to make or only the little old lady in your hometown devoted her time to laboriously producing. Well this is

my thing.

Dominican pastelitos are not mini cakes for you Spanish speakers of non-dominican heritage. They are like empanadas but fried, and delicious. Well, that's pretty redundant. How could something fried NOT be delicious? If you're curious about dominican streetfood, peruse this page and prepare to drool. Then come right back here for my recipe for pastelitos.

It seems that every culture has their version of some savory turnover. Pasties, empanadas, pastelitos, hand pies - all dough encased around a wonderful and most times savory filling. In Dominican Republic pastelitos are streetfood and like such, you'll find a vendor pretty much a stone's throw away ready with hot pastries filled with a variety of fillings like pork, chicken, beef, cheese, tuna and all sorts of fruit combos. In the United States you're likely to hit a pastelito vendor if you're in a place like NYC or other places where Dominicans congregate. Another pastelito source is always some woman who makes them *cough*unlicensed*cough* out of her home and can single handedly supply a whole town full of customers ordering them by the hundreds for weddings, quinces, baby showers and Christmas. You can only find this woman by word of mouth and every one of them keeps their recipes top secret so don't even bother to ask. My

Aunt Y

. is one of these treasured women. She does all sorts of catering back in the old country to supplement her income and I'll be so bold as to say that her pastelitos are the best ever. Thankfully for me she never was secretive about her recipe or maybe it's because I was family. Little did she know that the little tween that would shadow her in the kitchen would take up the torch with the family pastelito recipe.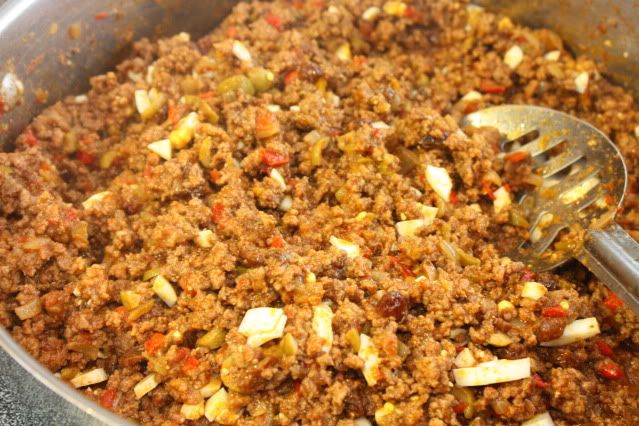 Lucky for you I'm not super secretive about this recipe much to my father's dismay who figured we'd make a fortune off of it. No, I share the recipe willingly but the reality is that most people find this a labor intensive task and just don't make them. I'll admit that we Dominicans sometimes reserve making these for the holidays since it guarantees free labor from visiting relatives and really there's nothing more enjoyable than tons of family, good gossip, and a good drink between cranking out batches of pastelitos. Many hands make light work and all that.

However, about 9 years ago when Mr. Maricucu and I moved away from my hometown to North Carolina suddenly I was without what I consider a basic right - my pastelitos. I came to the harsh realization that I would have to make. them. myself. Right away I knew that the memory of those summers in DR would not be enough to knock out making pastelitos. Nope, I called my

Aunt Y.

and grilled her. Then I began production. My first attempts were nothing to write home about and even Mr. Maricucu the non-Dominican who had tasted the real thing while living in Miami realized the recipe needed tweaking. So tweak I did, several times a year every year making both the beef pastelitos and my aunt's amazing chicken pastelitos (that recipe is coming soon too). I've finally perfected the recipes enough that I can close my eyes, take a bite and instantly be transported to the days when my aunt would send a huge cracker tin of already fried pastelitos on the plane with my grandmother to Miami.

Beef Pastelito Filling

2 lbs ground beef
1 large onion, minced
1 large red bell pepper, minced
olive oil
2 cloves garlic, chopped
1 tablespoon tomato paste
2 teaspoons garlic powder
kosher salt to taste
1/4 cup white wine
3 tablespoons pimento filled olives, chopped
water
3 tablespoons raisins
2 hard boiled eggs chopped


At its core, beef pastelito filling is a highly seasoned picadillo with three ingredients that contribute the balance of savory and sweet - raisins, hard boiled egg and olives. Believe me even if you don't like these ingredients on their own, try them in this recipe. The sum is greater than the parts.


Heat a large pan over medium high heat. Drizzle in about two tablespoons of olive oil then toss in your onion and bell pepper. Season with kosher salt. Since pastelitos are a pretty involved item to make I usually make double and triple batches. Today I'm making a double recipe of the above.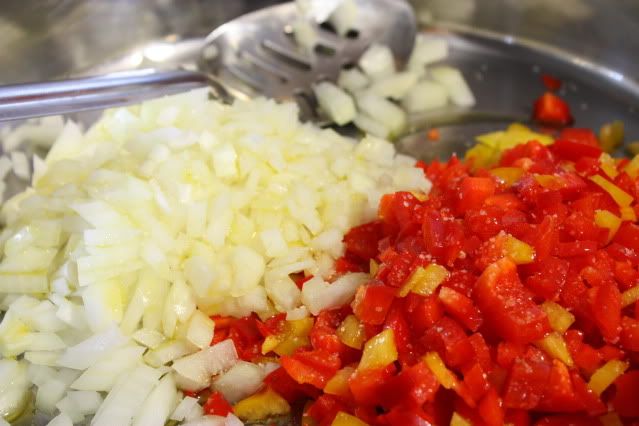 Saute for several minutes until the vegetables are soft then dump in the garlic. Give it a stir.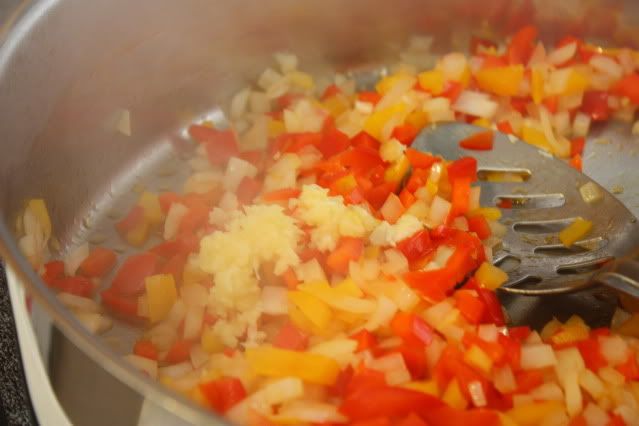 Immediately add the ground beef and break it up with your spoon as it cooks. The meat really needs to be crumbled well, no large chunks at all - think hot dog chili. If breaking up chunks is too tedious with the spoon, switch to a potato masher.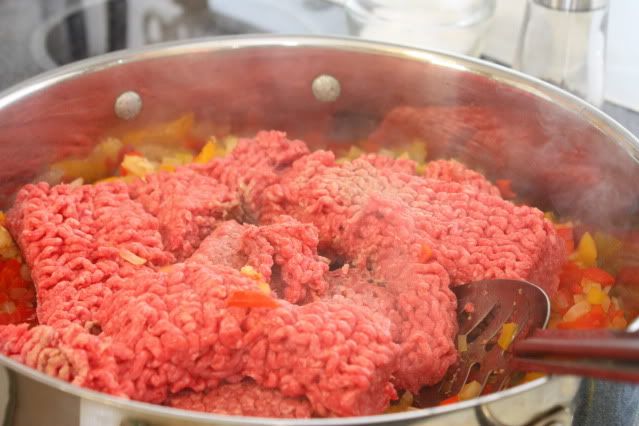 Cook the meat until it's no longer pink. If your meat is a bit on the fatty side this is a good point to skim off some of that fat. Then add the tomato paste and garlic powder. Stir well to cook and caramelize the tomato paste giving a much needed depth of flavor. Yes those are my frozen plops of tomato paste. After they melt in the pan I usually give the meat mixture another 3-5 good minutes of sauteeing/caramelizing before moving onto the next step.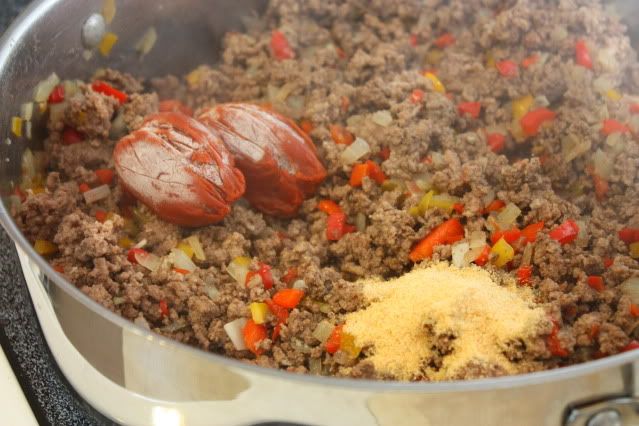 Dump in the white wine. Remember, there are oil, water and alcohol soluble flavors in our food and you want to eek out every single one. This step also helps to deglaze the pan after caramelizing the tomato paste a bit.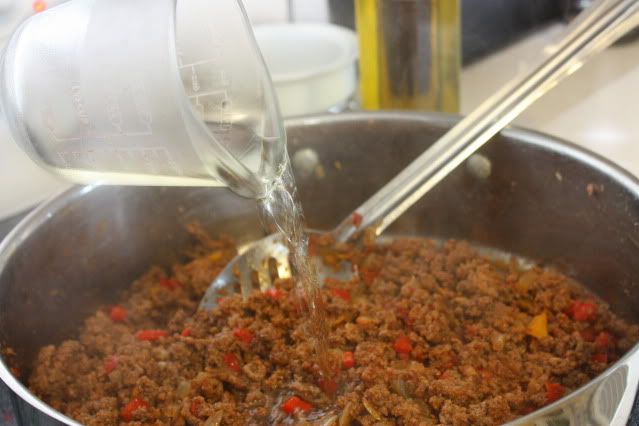 The landscape so far. Softened aromatic vegetables, ground beef slightly seasoned by them and the tomato paste. It's yummy, but hasn't reached potential just yet.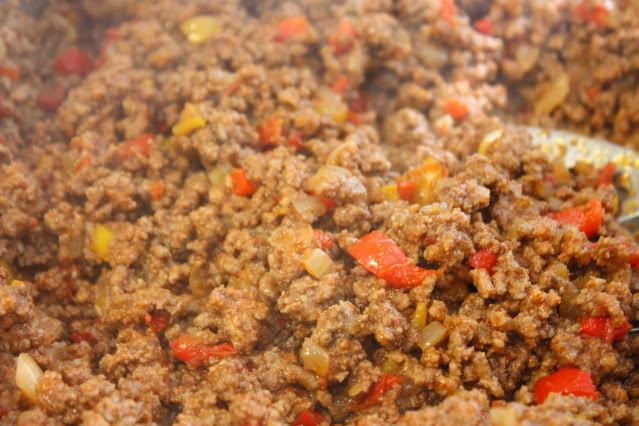 Moving on to the second phase of flavor building. I give my olives a rough chop. I know you can buy chopped/sliced olives but something in me resists that. I don't know why but when I finally pinpoint it I'll let you know.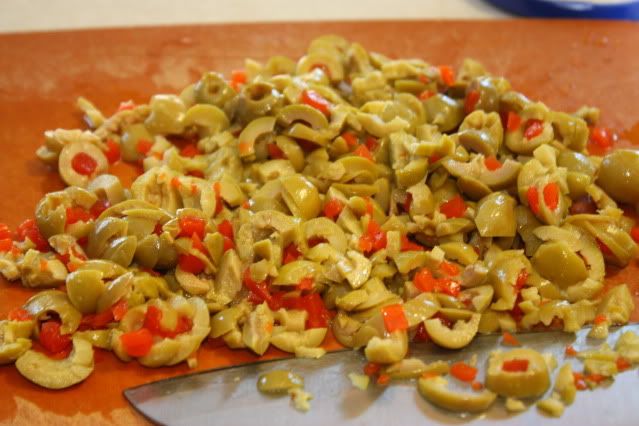 Add those to the pot.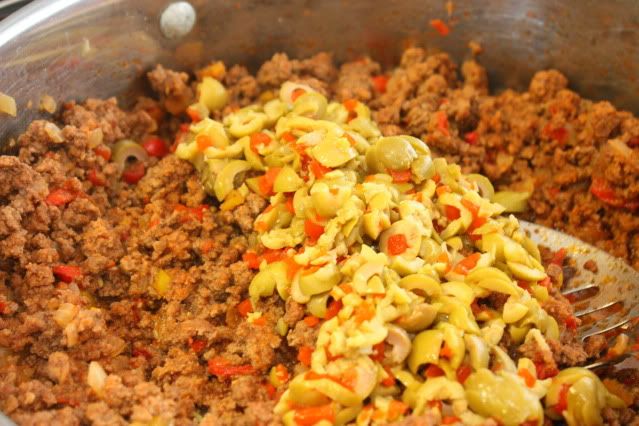 Then pour in enough water to reach almost the top of the meat mixture. This water will buy you simmering time, enough time to allow the flavors to further infuse the meat and then it will boil away leaving a flavorful mix. Notice I haven't seasoned the meat beyond the initial aromatic vegetables. The olives have a good bit of salt and I leave the final salt adjustment for later in the cooking process to compensate for that.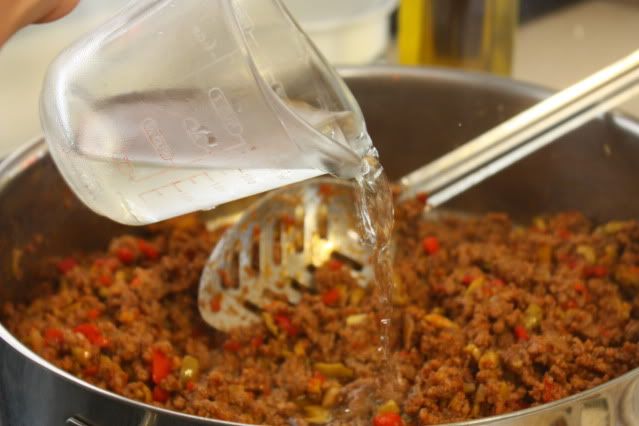 Bring to a simmer and allow to cook uncovered.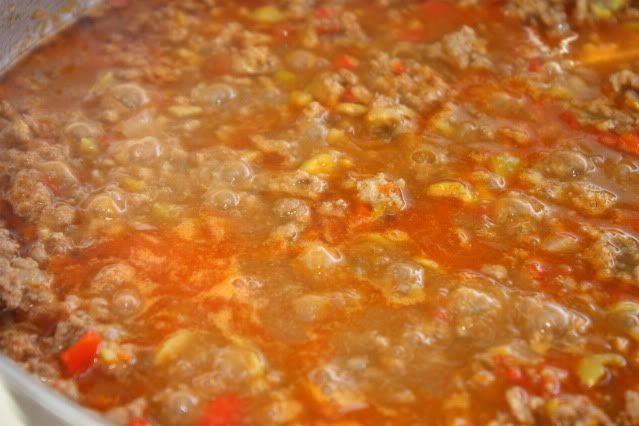 About ten minutes into the simmering process I add the raisins. Usually raisins are left whole for pastelitos but in my family there's a raisin hating faction that is pretty vocal. So I just get better at hiding them. I give the raisins a rough chop (you can also pulse them in the food processor) until they are about 1/3 of their original size. Then I toss them into the simmering meat mixture which will further soften and melt them, giving the filling that needed hint of sweetness without a large swollen raisin looking you in the face as you eat the pastelito. This is also the point to adjust the salt. Taste the meat and season with kosher salt very liberally. Obviously you're not going for salt lick but you want it very well seasoned so that the filling can hold its own against the pastelito dough.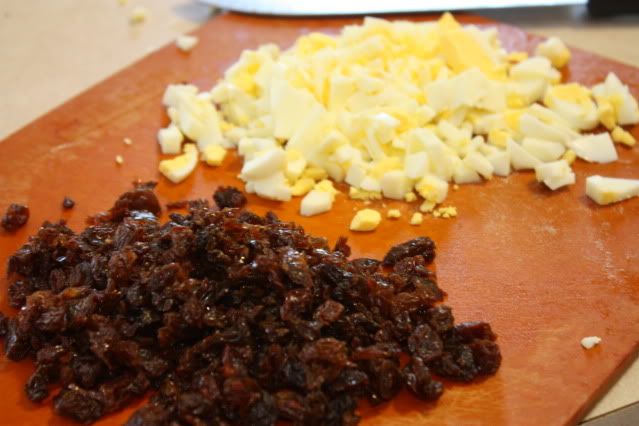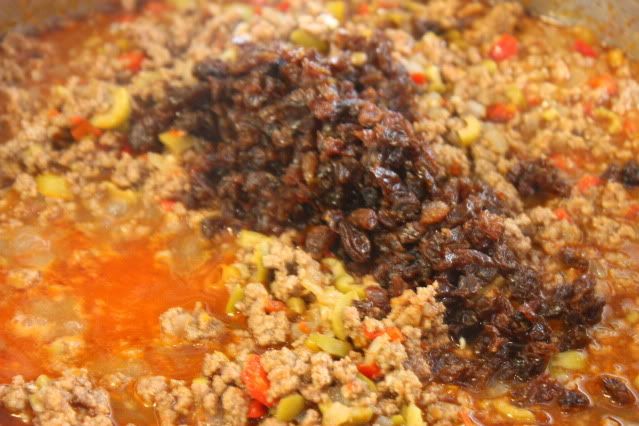 Keep simmering the meat until almost all the moisture has evaporated. The meat will still be moist, yet when you stir the pot, there will be little to no visible liquid at the bottom. If your filling is too wet the fried pastelitos will tend to leak and have a soggy bottom but if the filling is too dry the meat will feel like the filling of a dry maraca in the dough.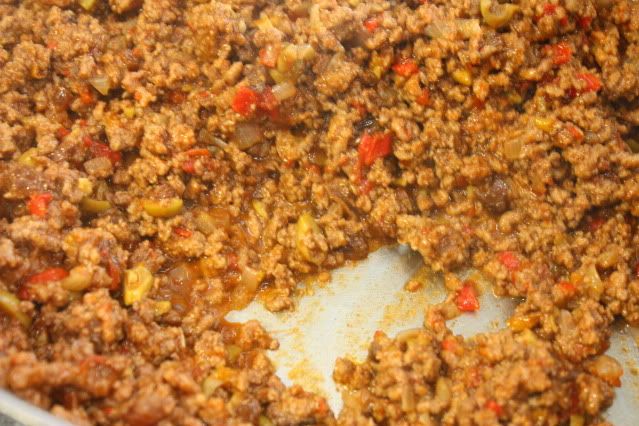 Turn off the heat and finally add the chopped egg. Stir, then allow to cool. Put up your filling in the fridge for the next step and pat yourself on the back for increasing your dominican quotient in one afternoon.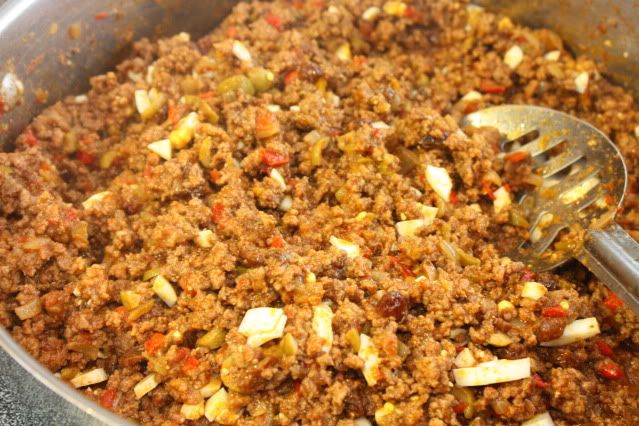 Sometime next week: turning this beautiful filling into my favorite food ever.