Around here Mr. Maricucu and I both have home offices. When the boys talk about Daddy's office it's the guest bedroom which we've converted into a home office and where Mr. Maricucu works from home a couple of days a week. It's also his man cave but the boys aren't familiar with that term.

When they talk about Momma's office it refers to my sewing room. However, my true office is this little spot in the living room. I had a side table right here between the long sofa and my recliner. That recliner has seen me through rocking and nursing my last two babies and having the laptop right nearby meant I could multitask. As my hobbies have grown I now keep a card reader, hard drive, inspiration notebook, etc. by the laptop as well. However, with the baby now walking I would find my items strewn around the living room and she's literally drooled my wireless mouse to death.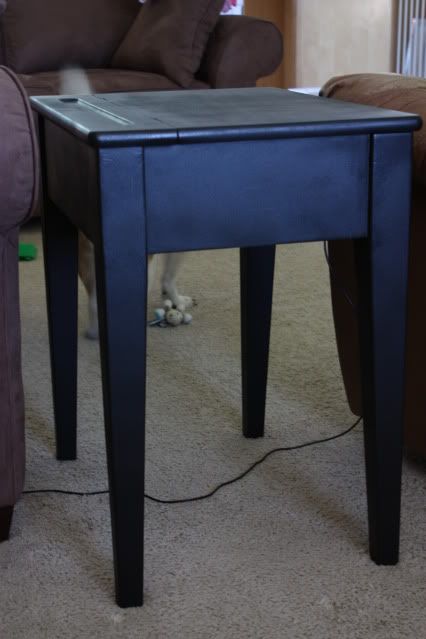 So I finally finished painting my little craigslist desk the other day and after three days of curing in the garage it's ready for action. Kind of hard to photograph a black piece of furniture but it's a satin finish and came out pretty well despite my initial challenges (like my wimpy wrists and my inability to admit defeat).

See that little hand right there? Don't worry, she's not in danger. The desk has a safety hinge that has to be pushed down but doesn't close on its own.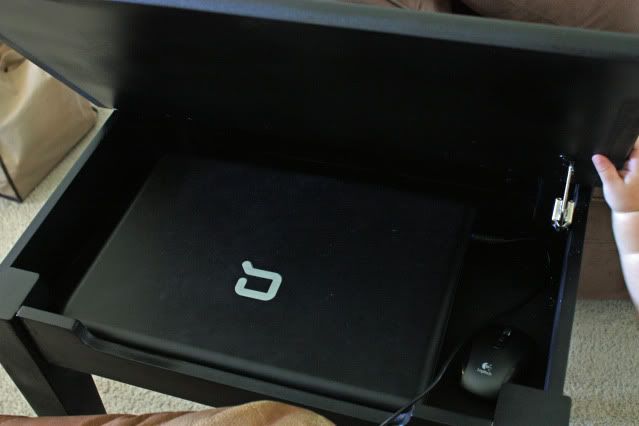 First, I thought I would keep the laptop inside the desk but then I realized the storage would be best put to use for the little items like my hard drive (with

all

my pictures, gulp), the card reader and my new mouse that the baby is

not

supposed to be drooling to death. I'm feeling more productive already.