This is the nativity I place under the tree. It's one I inherited from my mom and made of ceramic. Since I was putting this behind the supposed-to-be-babyproof dining area I wasn't concerned about the nativity's safety. But look closely, see baby Jesus in there? No? Well that would be due to the interior decorator otherwise known as our baby.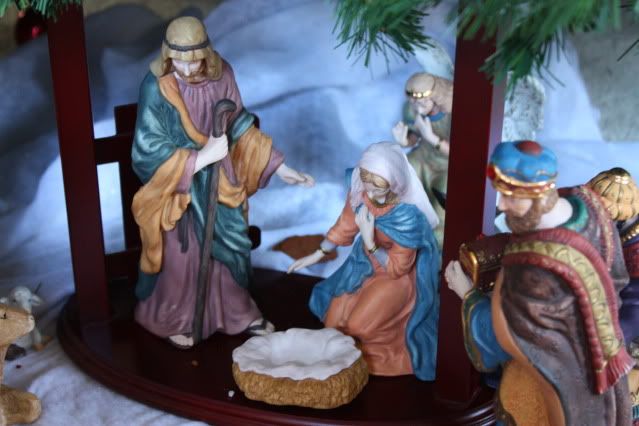 For some inexplicable reason she has just latched on to this little figurine like a dog with a bone. Any chance she gets, she swipes the ceramic baby Jesus, plants herself in Mr. Maricucu's dining chair and commences to give me a heart attack. All I hear is the clink, clinking of the ceramic and my ears are instantly alerted.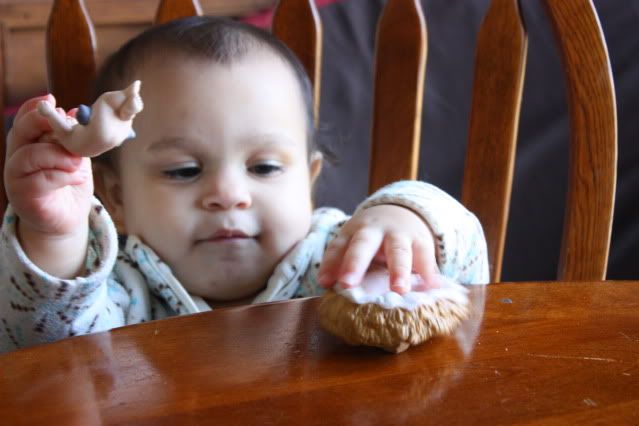 Other times she takes the figurine for a trip across the dining room and relocates it to what she believes is a much nicer spot. Love the scale, Jesus is bigger than the camel's saddle. Brings to mind
Honey I Shrunk the Kids
Nativity Special.
As part of our advent activities the boys and I made our own version of recycled mangers complete with a mama made Baby Jesus each. Go ahead and laugh, I swaddle dolls about as well as I swaddle babies, that's still Mr. Maricucu's specialty.
Thinking that perhaps having her own Baby Jesus the baby would leave my breakable one alone, I quickly made one for her sans manger. Which she will gleefully tote around and place right next to the ceramic one. Apparently I'm just adding to her collection, not replacing one for the other.
In case you're wondering if the boys are as fascinated with the ceramic baby why yes, yes they are. For quite a different reason though, one that only giggly little boys who relish in potty humor can appreciate.
Baby Jesus has no drawers.