Today we had a pretty enjoyable day as a family. Ran an errand, had lunch and then hit the park. But first I had to stop at Joann's for some yarn. I needed this yarn, yes needed, for a swap project and wanted to get a head start. After narrowing down my choices to two types of yarn I headed for the cash registers to make my final decision while waiting in line. I turned to the kind looking older woman behind me to ask her which yarn felt softer to her. She thoroughly felt both and gave me her opinion, then turned to her teenage granddaughter and asked her as well. Once I had her input and made my decision we continued to chat. She told me that she used to own a yarn shop! In fact, turns out that she owned a local yarn store that is now quite popular. Talk about asking the right person's opinion. On the other hand Mr. Maricucu finds it quite unnerving that I start conversations with random strangers so easily.

Here's the beautiful roving yarn I chose and the buttons to match.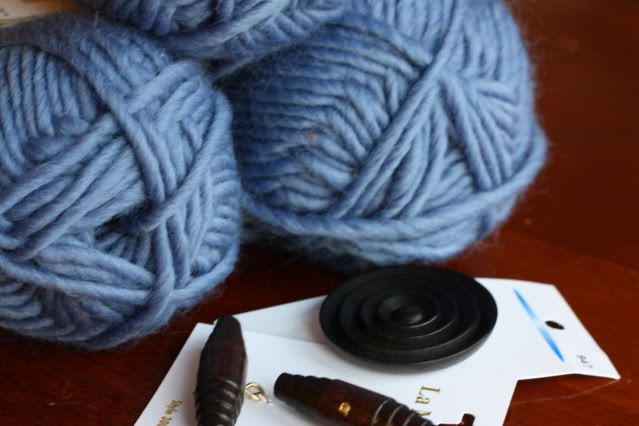 Can I say how much I love that huge round wooden button? I just want to attach a brooch back to it and plant it on any top I wear. Love it.