Yes, it was Father's Day around here just like everywhere else in the US. This year my kids were very amped up about sharing their surprises with Mr. Maricucu. To the point that they kept almost spilling the beans had it not been for Mr. Maricucu's placating "You guys don't need to be telling me that right now. Let's wait until Sunday." They made him cards, gave him a couple of gifts and let him sleep in just a tad even if it was me convincing them that 7:30am was not a good time for gifts.
Of course, every year I update Mr. Maricucu's office photos along with his Daddy memory book. This year instead of the
DAD photos
with the wooden letters like the years prior, I went for straight shots of the kids. In part because I really wanted to capture their faces and mostly because whenever the letters came out it was a round of "I don't want to carry the D, I want the Y (which we never use). How come HE gets to carry the A. Well then I'm not gonna smile." Oh yes, good times, good times indeed. If I were just a tad wealthier I'd prepay my children's portraits to a great photographer for the rest of their lives and just capture the informal shots. But I'm not rich so I get the joy of receiving direction from my little herd while gritting my teeth and trying to engage them.
Today I introduce the final cut. An 11x14 collage of the shots that actually came out decent and were framed for Mr. Maricucu.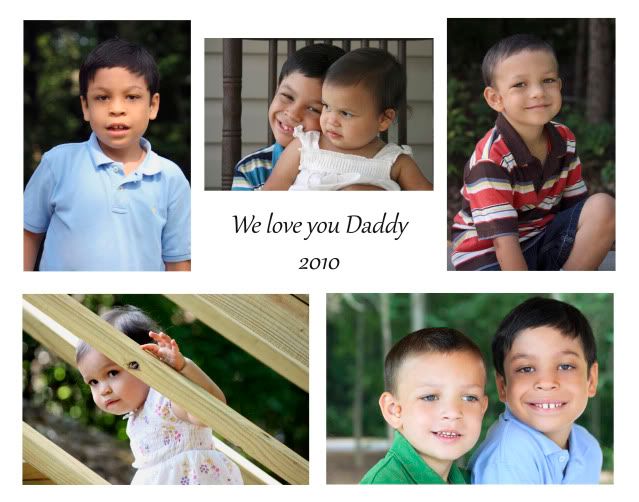 And yes, it's totally killing me that in about a month the collage will not be current with the new child headcount. I'll live though. But for now this collage represents three days work on some of the hottest days in the last couple of weeks, trying to shoot them quickly in the early hours of the morning. All while hearing, "are we done yet????? You said one picture [I said one
nice
picture]. Why do we have to take these photos? I want to go play on the slide." Never mind that on Father's Day it was all, "look Daddy the pictures we took for you." So we finally got one decent individual shot of each kid and at least a few of them together if not all together. That will be the next post, the outtakes which are just so not funny in the moment but I'm sure will get funnier as the years go by.