Growing up, my family had one cardinal rule. No one ever goes to or stays in the hospital alone. Much like the marines and their "never leave a marine behind" command, in our family we took shifts, called on friends and pretty much ensured that a person was not alone in the hospital. No we're not paranoid but in an imperfect world with many shift changes a human can make an error so a loved one keeping a watchful eye helped reduce that risk drastically. That person would also serve as an advocate for someone likely under sedation or too weak to persist in requesting comfort measures.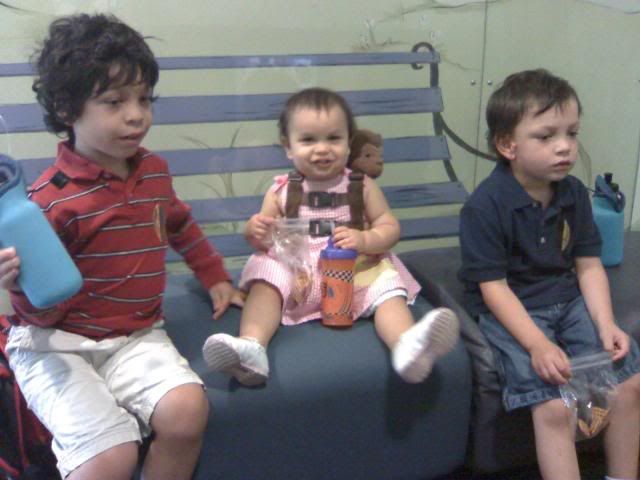 Well I'm here to say the tradition continues. Here's my crew at the hospital ER while poor Mr. Maricucu was being seen for kidney stone pain. Bad cell phone pic but even if I did have my camera I think they would have poorly on me trying to snap pictures at the emergency room. Mr. Maricucu is not usually one to complain about smaller symptoms so when he called me to tell me he was coming home early and panting through pain I knew it was
not
just back pain. Sure enough, a couple of hours later instead of heading to our family doctor the whole crew was packed and ready to head to the ER. Once there they sat still for a good 2-3 hours and munched on the food I had hastily packed up preparing for the worst. We tried every hand sanitizer station, discovered all the bathrooms and spoke with both police officers on duty. I steered them away from a TV playing one of the most gruesome vampire movies I've ever seen (hello?) until we found the little kid section which was a mixed blessing. When Mr. Maricucu was called back to be seen he told me to go ahead and stay in the lobby thinking it would be easier on me. Three hours into the ordeal I asked which room he was in and found that they had yet to do any type of diagnostic procedures on him. I camped the three kids and me in the small room while I peppered the now surprised nurse and PA about the course of action. Thankfully I touched bases with a friend who sent her husband to rescue my two older boys from the boredom of the ER and unleashed them in their backyard to play then fed them dinner. Finally, after a cat scan, an IV bag and a whole bunch of sitting around waiting Mr. Maricucu was sent out with a little less pain, some prescriptions and a referral. He's recovering now and doing well. Definitely not our idea of fun and now we get to sit around and wait some more on the hospital's idea of fair billing.