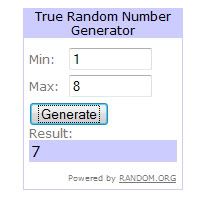 Looks like Stacy is the winner! I hope you enjoy the pincushion and your lipbalm. I wish I could make another dozen pincushions to share with everyone who commented. Thanks for giving me a good reason to play with the random number generator.
I posted in the comments about my labels but just in case I figured I'd answer here. I don't have a business but as you all know I do love my labels. Plus, it helps the kids figure out the back vs. the front of their garments. I bought them a while back from a business that looks like it's no longer around. However, another great place to buy a bit of labels without losing an arm or a leg is
Miss Label
. Mine are similar to her satin fold in ribbons and I just fold them in different ways to fit where I'd like to sew them.