No, not that
Strawberry Shortcake
, although I am a child of the 80s and did love her as a kid. I'm talking about the awesome dessert that apparently was being withheld from my tastebuds for years. Yeah, I've had the sponge cake and strawberry version but believe me, it's
nothing
compared to a traditional shortcake with its sweetened cream biscuit, in season berries and a bit of good whipped cream. I just don't know what Martha's people were thinking when it came to portion size. These shortcakes ended up being quite large (not that my family was complaining). I could easily see making them half the size and ending up with 16 instead of 8.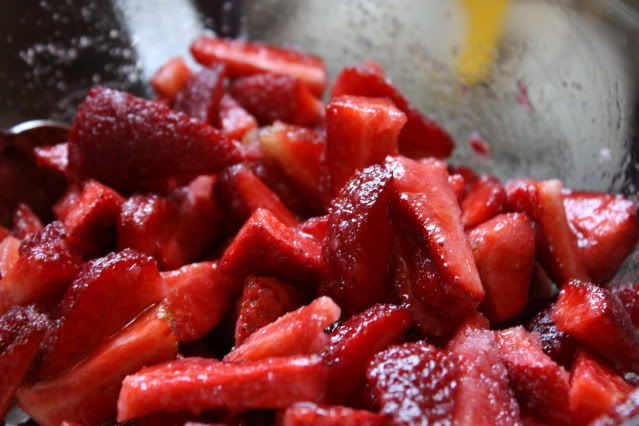 So a
good while back
I had the large surplus of North Carolina berries hanging around and while we ate about 3/4 of the flat and additional quarts straight, I knew I wanted to try at least one strawberry shortcake recipe. Now if you've read my blog before you know I have a thing against recipes that leave me with orphan egg yolks or whites. Can't stand 'em and will usually avoid them with a few exceptions I might post later in the year. So that removed a few recipes from the running. I also didn't want to have to roll out dough for a simple shortcake. Those two factors and wanting a tried and true recipe for the shortcake left me with
Martha Stewart's recipe
and I'm glad to say she didn't disappoint even if her portion sizes are out of whack. Even better, I was able to whiz up the shortcake in the food processor avoiding the witching hour kiddie meltdown meeting up with my hands in dough. Win-win situation if I do say so myself.
Strawberry Shortcake
adapted from
Martha Stewart
6 cups strawberries (1 3/4 lbs) -
washed, hulled and quartered
3/4 cup + 1/2 cup + 2 tablespoons granulated sugar -
I'm saving you the mishap of dumping the sugar all in one spot. The first quantity is for the berries, the second for the shortcake and the last bit is for the whipped cream. For those of you who read the instructions

after

you've dumped in the ingredients already (like moi).
3 cups all purpose flour
4 teaspoons baking powder
3/4 teaspoon salt
12 tablespoons butter, cut into pieces -
Here I will commit baking heresy again and mention that I use salted butter for all my baking. I would incite the baking police to take me away but I'm already on the lam for the
belly shot police
from a while back.
1/2 cup + 1 1/2 cup heavy cream -
Again, divided first for use in the shortcake and the last portion for the whipped cream to serve between the layers. If I come across as an overbearing motherly type I apologize. However I don't think I can do anything about it.
2 large eggs
1/2 teaspoon vanilla extract
So this recipe requires just a teensy bit of planning. Remember you must macerate the berries with the sugar first in order for the sugar to draw out the berry juices and soften them slightly. If you'd like, splash in a bit of white wine with your berries and sugar. My aunt used to do this and the results are quite delicious all on their own.
Dump the washed and quartered berries in a bowl along with the sugar. I suggest you hold back on the sugar a bit and taste the berries. Mine were in season and quite sweet so I only used about 1/2 cup of sugar. You may need more or less depending on your berries.
Give them a stir and set them aside.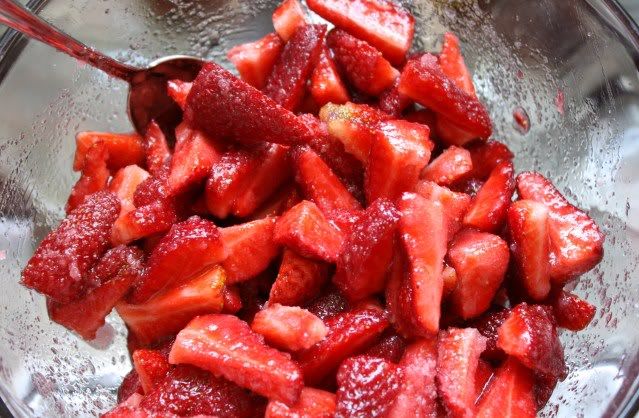 Now onto the shortcakes. Preheat your oven to 375 degrees. In the food processor add the flour, baking powder and salt. Pulse to mix the dry ingredients.
Next, add the cubed butter and pulse again until the pieces of butter are about pea sized. You can certainly do this step by hand and use a pastry cutter instead of the food processor. Whatever works for you.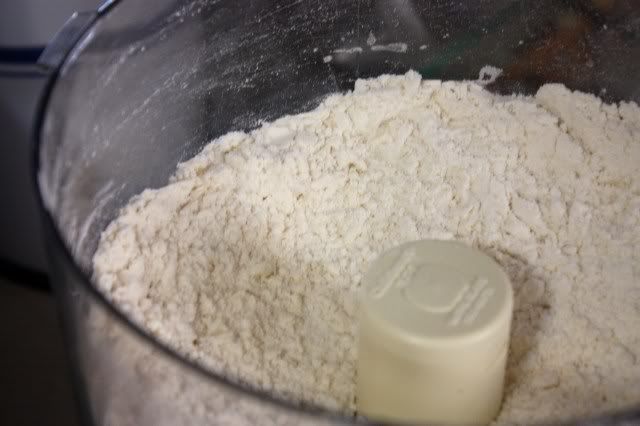 Once the butter is cut into the dry ingredients (this is just like making biscuits) mix the heavy cream and the two eggs in a measuring cup. Pour the heavy cream/egg mixture over the dry ingredients in the food processor and pulse until the mixture forms large clumps (Martha says 25-30 times but she's precise like that).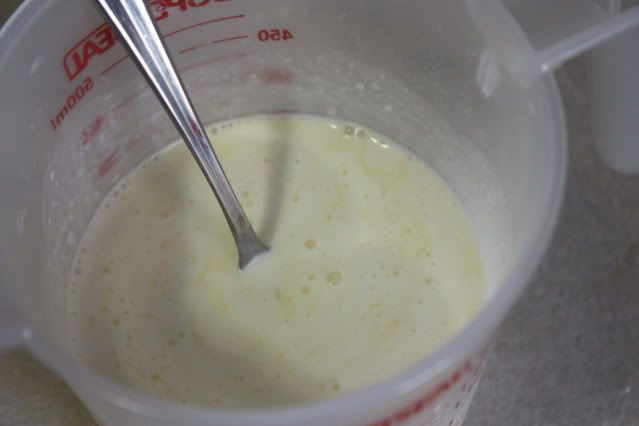 Mine went a little further since I was distracted but it was just fine.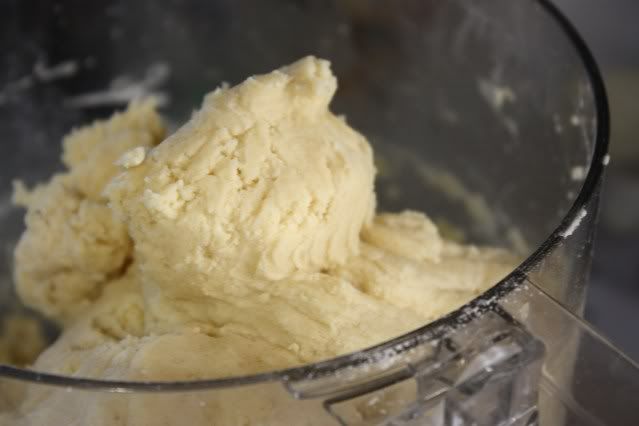 This is where Martha and I will have to disagree. She wants you to scoop out 1/2 cup portions of the dough onto a parchment lined pan. I grabbed one of my favorite
dishers
and scooped out rounded scoops about 1" apart on the baking sheet. Next time though it's going to be a half scoop so about 1/4 cup of dough (and reduce the baking time accordingly).
Bake the shortcakes until they are light golden brown, about 20 minutes. It was devastatingly hard not to crack into one of these early. However the food mafia, aka my kids were keeping me honest.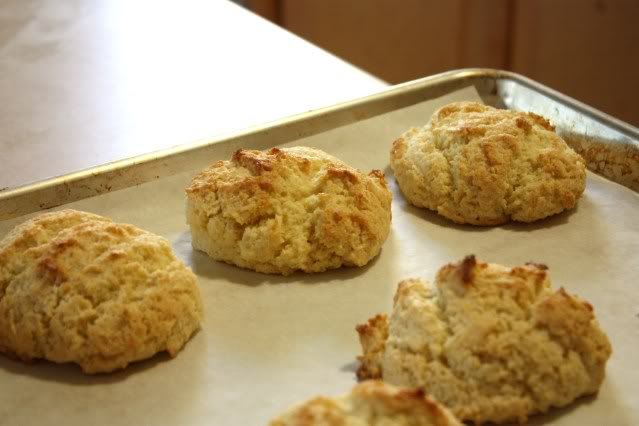 By the time you come back to the berries you'll see the magic that has happened. Soft glistening berries, the sugar all dissolved and melded with the strawberry juice into a heady syrup.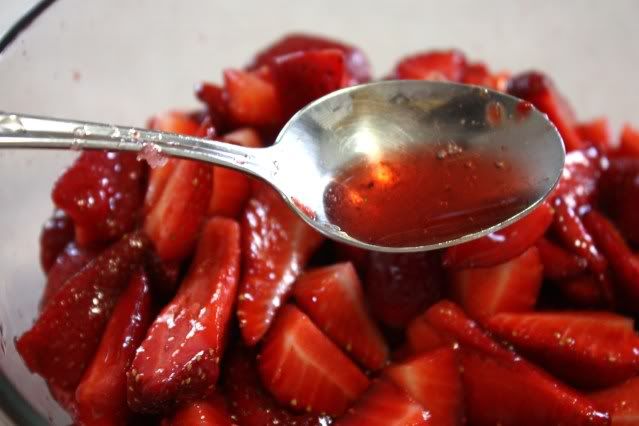 Here is where the photography took a back seat. When the troops are awaiting dessert, their gazes longingly reaching over the breakfast counter, I don't have it in me to make them wait too long by snapping away at the food. Well, that and they begin to say, "momma can you please stop taking pictures of the food????"
The whipped cream. You can certainly whip the cream by hand (I recommend chilling the bowl in the freezer first) or pull out the stand mixer. I wanted to make this short and sweet so I threw the heavy cream and sugar in a glass bowl and hit it with the stick blender. Come on, I can't be the only one that remembers the infomercials where they take the skim milk and use a stick blender to whip it into "whipped topping" all in front of a
fit-for-Ron Popeil
audience. When the mixture starts to foam, add in the vanilla and finish whipping until soft peaks form.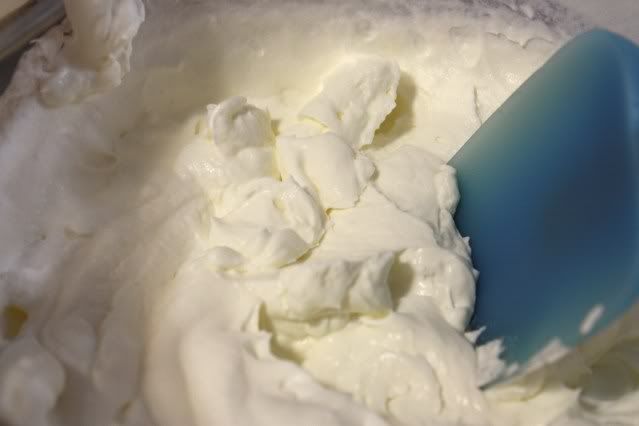 Finally, assembly. After the shortcakes have cooled for 10-15 minutes, slice them open with a serrated knife so they don't crumble on you. Top each bottom half generously with both berries and their syrup. Then a little whipped cream, the top half of the shortcake, more berries + juice and finally a dollop of whipped cream. The juicy syrup was by far the hit for my family on the crumbly shortcake. Don't skimp on it.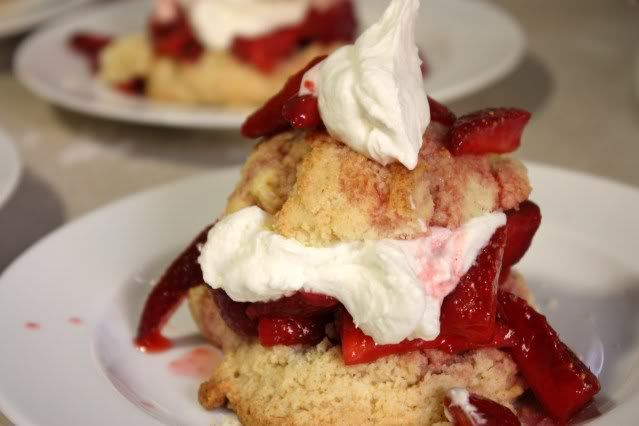 But wait, there's more! Surprisingly we had a couple of quarts of berries that had to be used up ASAP and I remembered wanting to try a strawberry crumble but with local berries to see if it would be weird or yummy. Strawberries having such a floral flavor, I thought they might ruin a crumble. Boy was I wrong. I used the
smitten kitchen recipe
for the topping and the filling I just threw together with the berries, sugar, lemon juice and some cornstarch. I did add a handful of blueberries that were rattling around in the freezer. Verdict? Absolutely delicious. I was in love with the bright red color but the flavor was amazing. I didn't even need any ice cream and that's a biggie for around these parts.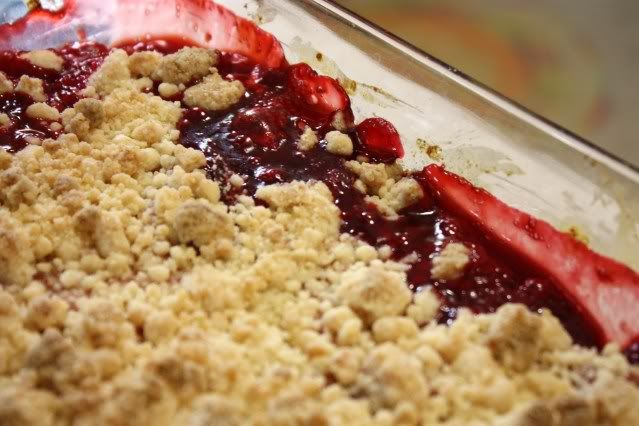 So try some shortcake, or some crumble. Either way the berries will shine.