I'm not currently sewing for the baby. I know it sounds sad and likely awful mommish but man when I'm pregnant the last thing I get is bursts of energy and the few I'm getting right now are being directed at reorganizing, decluttering and managing the troupe of already birthed children. However, I
am
sewing, just not for the baby. I'm working on the stash of large diapers that will replace the soon to be worn out ones I sewed up last time I was pregnant.. No that is not a coincidence - I apparently only manage to crank out diapers when I hit a hard and fast deadline. Can't get much harder and faster than a baby to throw the household into upheaval for the next several months.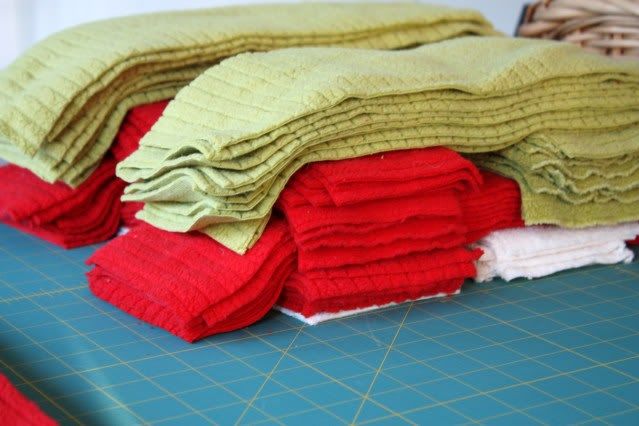 Typically I stick to my color scheme of blah and blah, aka beige and white because I'm OCD like that and having to come up with cute combination of fabrics for diapers would literally be the rabbit trail that sucks the little bit of focus I might have completely dry. However, I made a huge mistake this time around when I was ordering fabric. For some reason my brain was out to lunch when I ordered only 3 yards of fabric (I typically order 5 yards of each type, inner/outer/etc.). Not only that, but this time I wanted to make more diapers. Like 40 and I only ordered enough fabric to make 15. Nothing like
that
smacking you in the face at 11pm about 4 weeks before your due date. So I've been scrambling to cobble together more fabric. Which is why on top of the beige soakers you see some bright green and red, soon to be joined by turquoise and finally some lilac PUL (waterproof outer fabric). It's going to be one grand old multicolor circus inside these diapers but I might just have to use the beige as a topper on the bright layers just to keep things under control. I have a feeling Mr. Maricucu is going to think I've lost my mind when he opens this batch up.
Ahhh nothing like a little beige to bring things back to order.