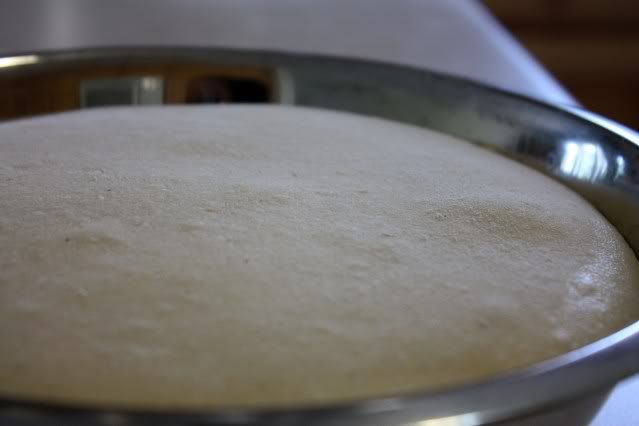 I've had this recipe for over five years now, shared by a fellow mom on the infamous old babycenter recipe boards. Infamous because if you've ever been on the babycenter boards at any point in the early years it was a hotbed for controversy. Thankfully the recipe board was spared from the drama and had a generally pleasant vibe to it. This was posted originally as a Macaroni Grill bread copycat recipe. I haven't been there in years but if my memory serves me right it's pretty close, a thin crispy crust that softens upon cooling with a medium tight crumb. Definitely not an artisan parisian loaf but a great loaf to dip in some well seasoned olive oil or for the double carbers like myself, in the last bit of lovely pasta sauce. What can I say? In Dominican Republic we have fresh baked bread in the morning, then again in the evening with a good dose of rice for lunch. Even growing up in South Florida you couldn't go 10 feet without finding a Cuban bakery brimming with lard based loaves of loveliness fresh from the oven. One thing I know is carbs.
The other wonderful part of this recipe is that relatively speaking, for a bread recipe it's pretty quick. You can start the recipe in the early afternoon and have fresh baked bread for dinner, ahem
with
dinner
.
This time I was making some to go with our
Huevos Flamenco
for that evening. The original recipe calls for all purpose flour but I typically use half white whole wheat. You'll also notice I'm making the bread in the food processor. I've admitted to loving kneading dough by hand. My children, however, have a radar that must come up like a bat signal whenever I get my hands in dough or raw meat. They suddenly
need
me or better yet I can hear they definitely
need
me from across the house. So when I have only one batch of dough to make I put that baby in the food processor and it's mixed and kneaded in under a minute and a half. If you don't have a food processor feel free to mix this up by hand (kneading 5-8 minutes) or using your stand mixer of choice (kneading 2-4 minutes).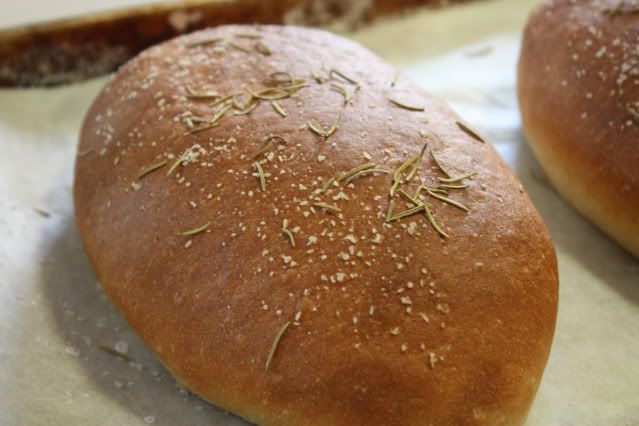 Macaroni Grill Bread Copycat
1 tablespoon dry yeast
1 tablespoon brown sugar
2 1/2 cups bread flour
1 teaspoon salt
1 cup warm water -
If you're using the food processor the water can be cool or room temp. Food processors heat up the dough slightly during processing.
dried rosemary
kosher salt
First, place all of the dry ingredients in the food processor and pulse them to mix.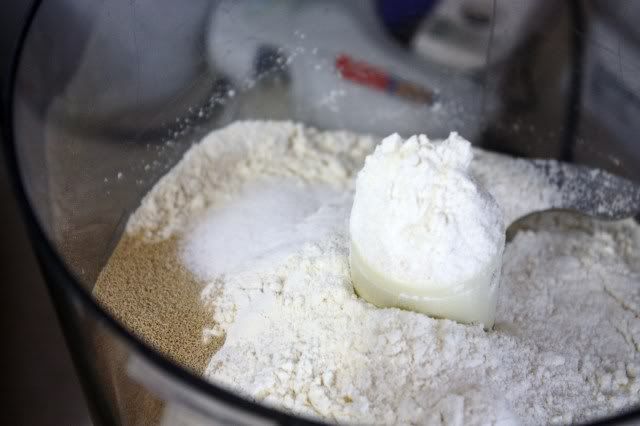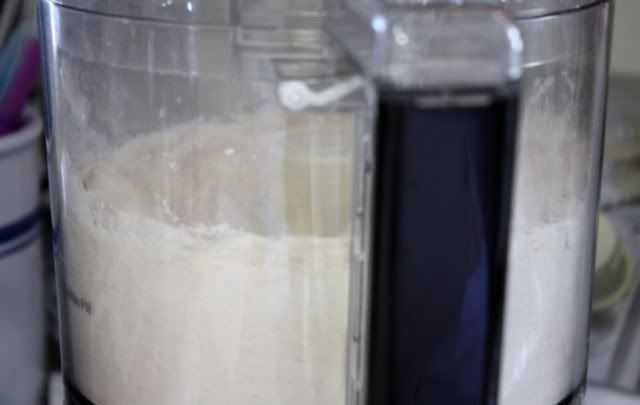 Next, turn on the food processor and pour in the water as it runs. The dough will begin to come together.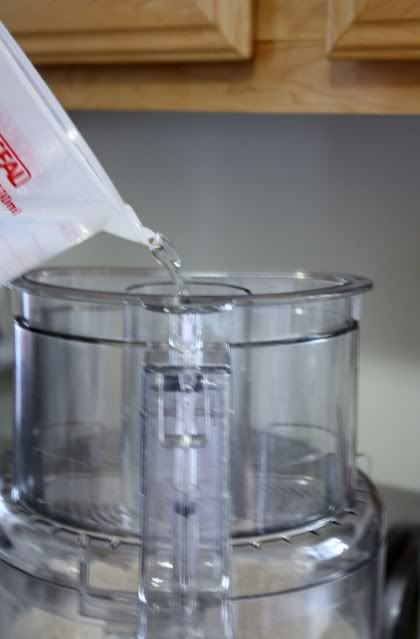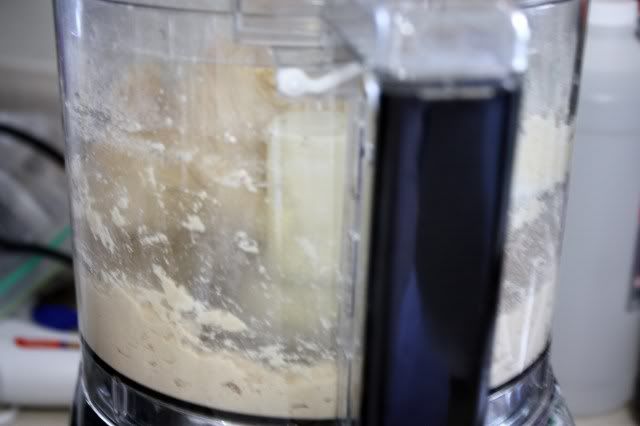 Now there's one step I add to any bread recipe and will improve your bread baking right away. Aside from learning to measure flour
the right way
or better yet, using a kitchen scale for weighing baking ingredients allowing a dough to rest before kneading is an important, often overlooked step. Why? Flour doesn't hydrate instantly and especially whole grains. Allowing a dough to rest 10-15 minutes after mixing will mean the flour hydrates properly and you won't have a dough that is overly stiff because you used a bunch of extra flour to knead a very sticky dough. Allow the dough to rest and most of the tackiness will be gone without you having done a bit of extra work.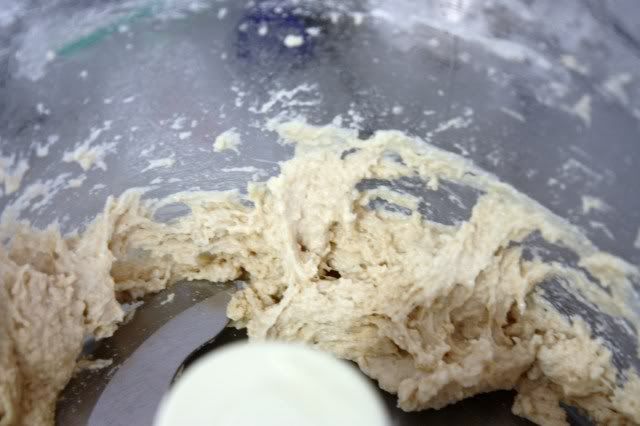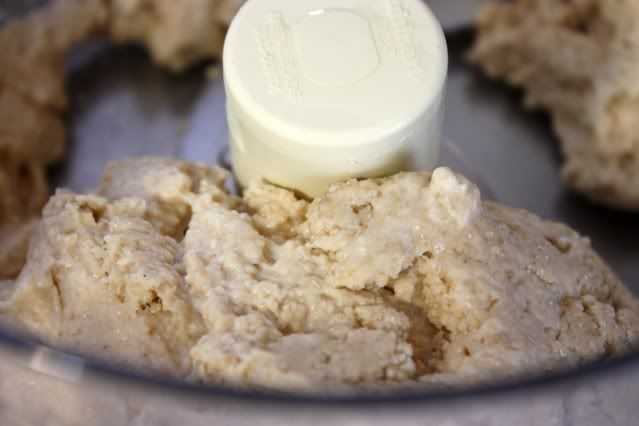 After allowing the dough to hydrate (this is called autolyse) run the food processor for 60 seconds to knead the dough. You'll know the dough is well kneaded when the ball comes together against the side of the bowl and the dough has visible, stretchy gluten strands.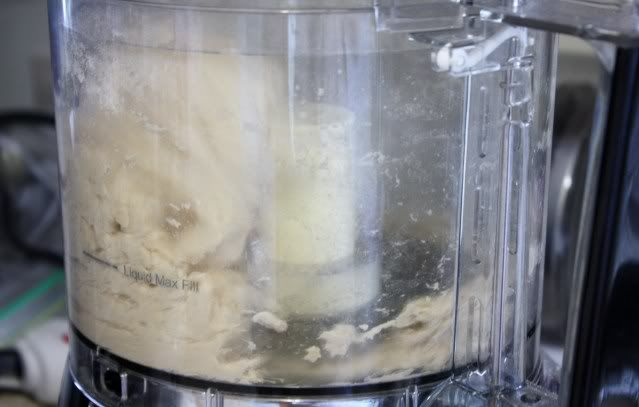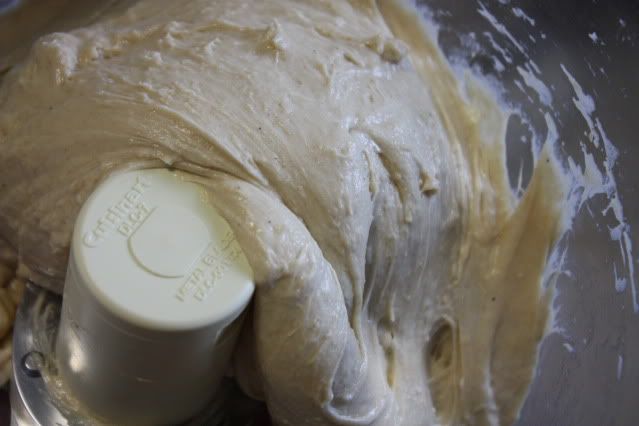 Dump out the dough on a lightly floured surface and give it a knead or two to shape it into a ball.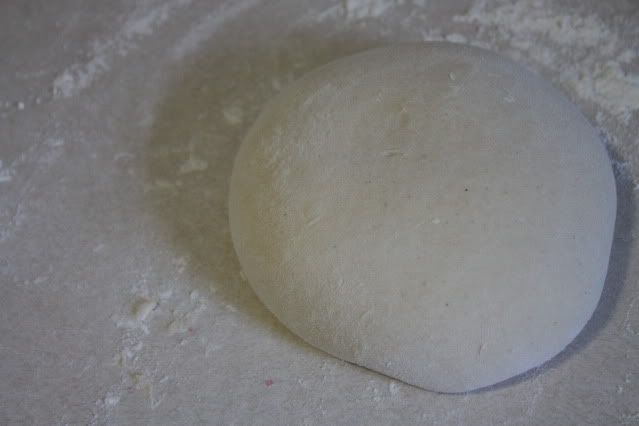 Then place the ball of dough in a lightly oiled bowl. Cover the bowl and place in a draft free place to rise. I stick mine in the oven (of course the oven is off). Let rise until the dough doubles or about an hour.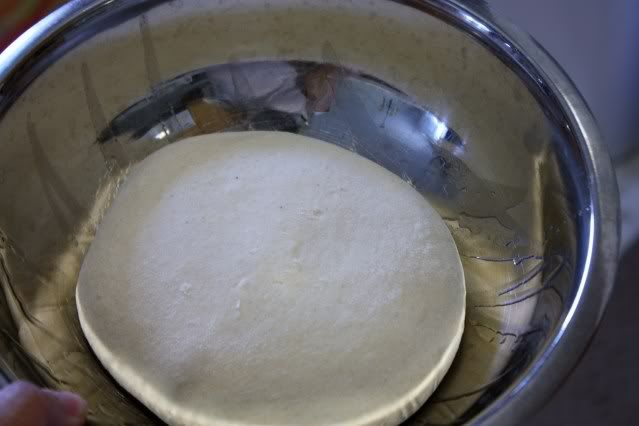 This dough doubles so beautifully. I still stand in awe at watching yeast, water and flour at work.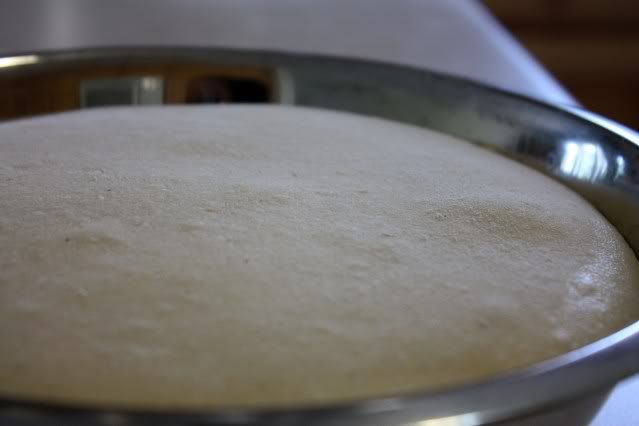 Dump out the dough onto your counter and cut in half. This recipe makes two modest sized loaves. You won't need additional flour at this point since the dough is elastic and well hydrated but not excessively tacky. In fact, adding flour at this point will make it difficult to pinch the loaf into shape. The flour on my counter is leftover from the first step. Yes I'm a messy cook.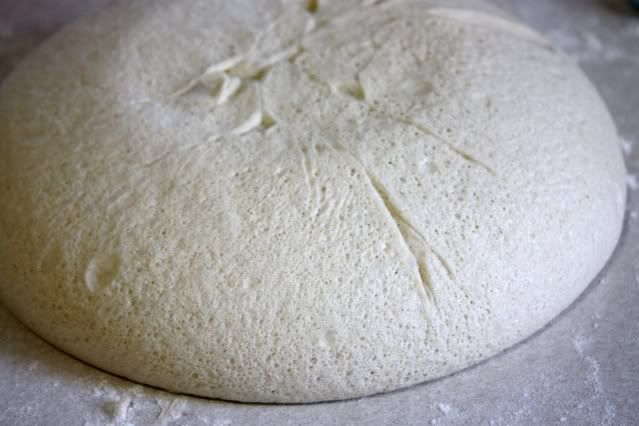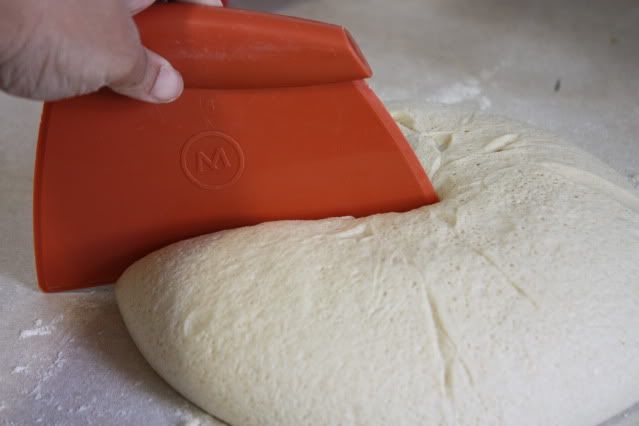 Take one dough half and press out the air with your fingertips. Just flatten it in order to shape the loaf.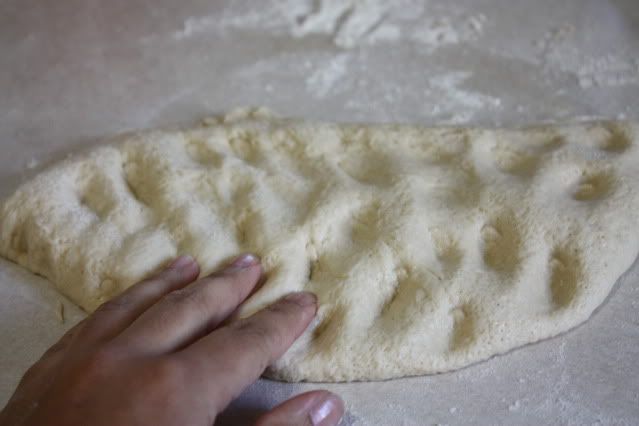 Then bring the edges of the dough and gather at the top to form a tight ball.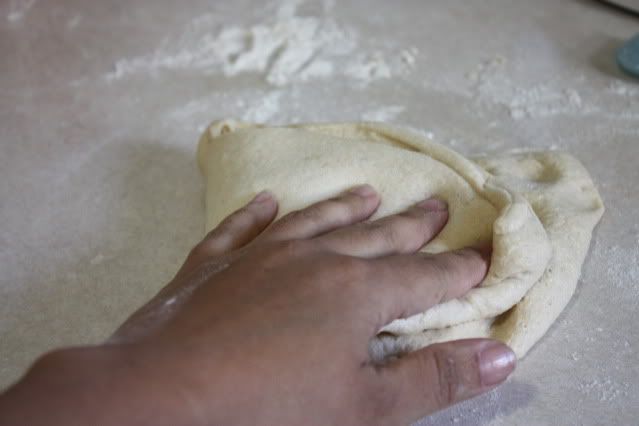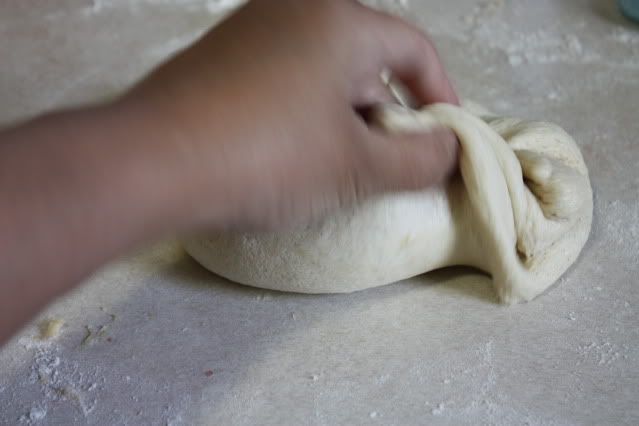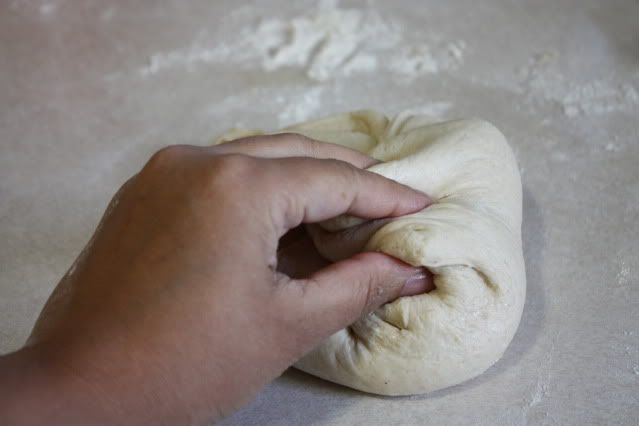 Dig your fingers/knuckles into the middle of the dough ball and pull it firmly against the counter towards you 3-4 times. This will give the ball an elongated shape. Pinch the ends of the loaf on top from one end to the other to seal.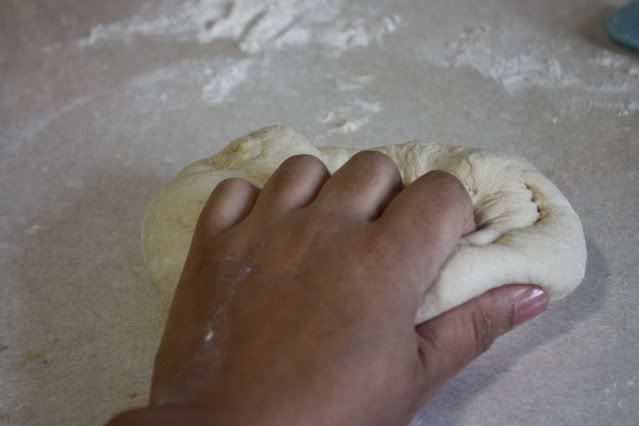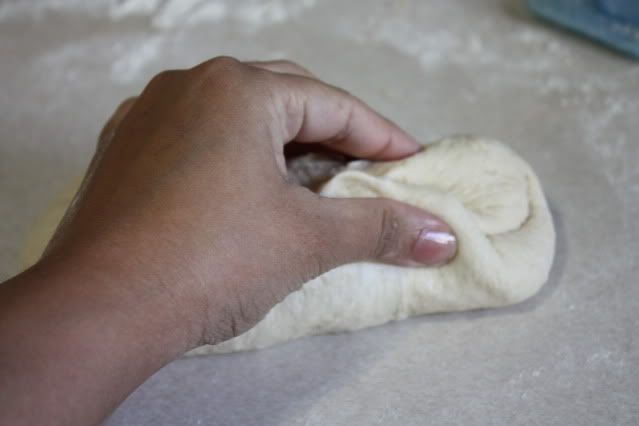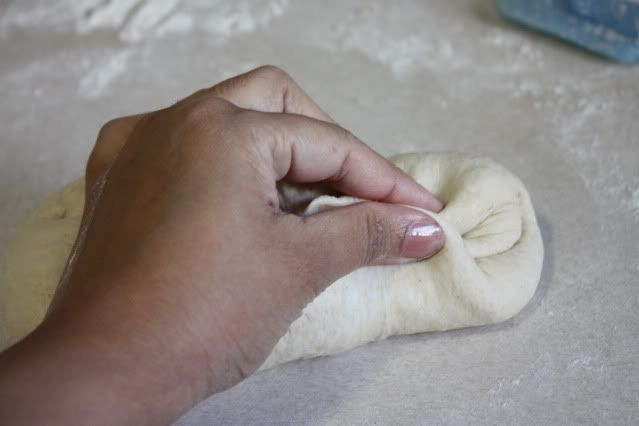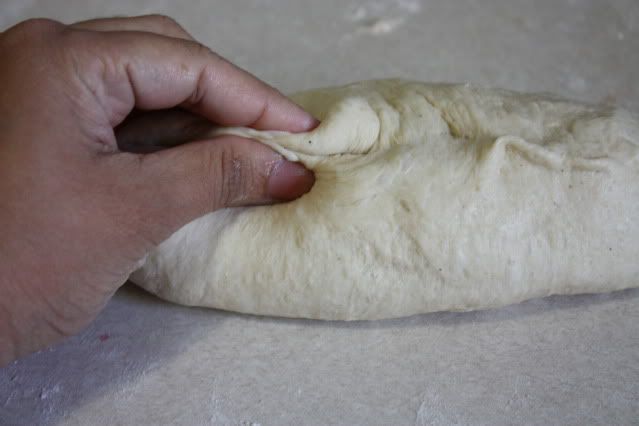 Flip the pinched side down and there you have one loaf. Repeat with the other dough half. Check out my Vanna White impression.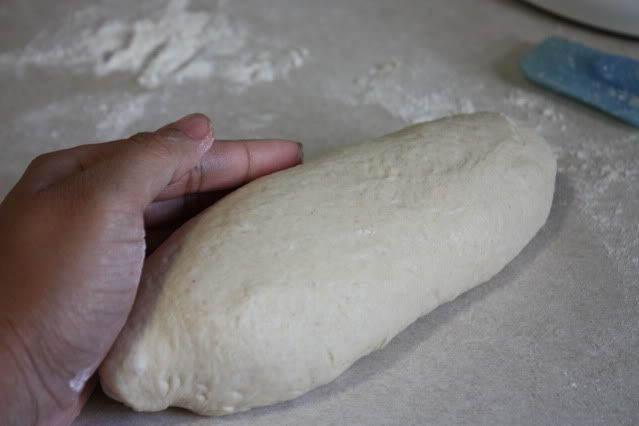 Place the loaves on a parchment lined pan (or greased baking sheet) and put back in the draft free place to rise again until doubled or about 45 minutes.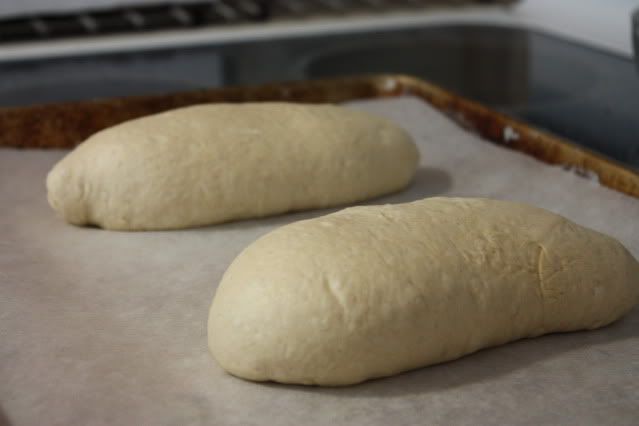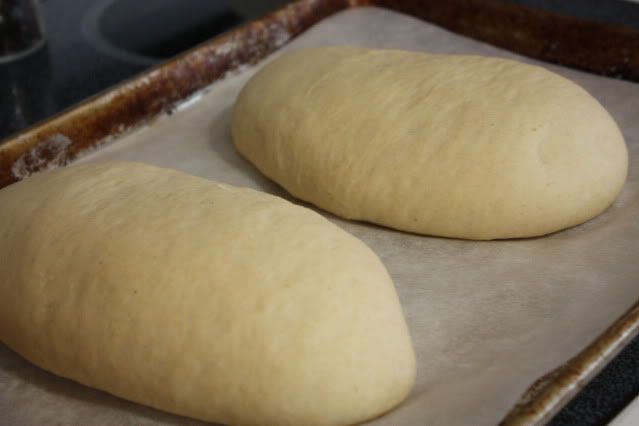 You'll know the dough is doubled if a finger inserted in the loaf doesn't fill in or fills in slowly.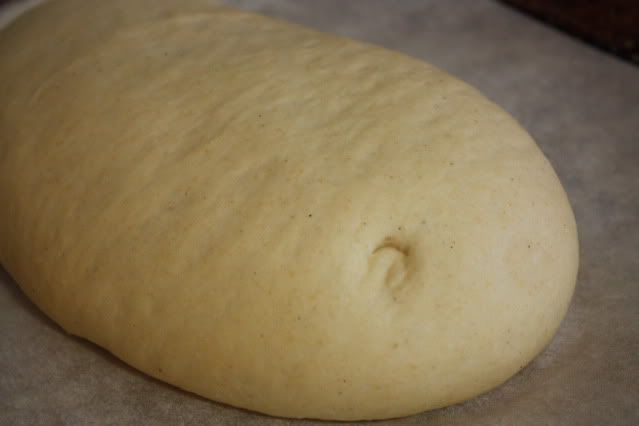 Now you'll need to prep the loaf for the oven. Preheat your oven to 400 degrees and if you're using the oven to allow the dough to rise, please be sure to take out the loaves
before
preheating the oven. Then brush the loaf with water. Water will promote a crispy but light crust. You can also brush with butter or even an egg wash, the latter which will allow the toppings to stick more effectively. But I'm lazy and don't want to crack an egg just for this purpose so I stick to water which means the toppings are a bit delicate after they come out of the oven.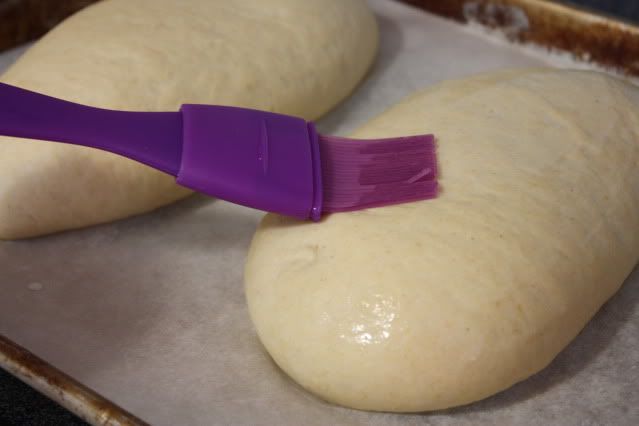 Then sprinkle the loaves with kosher salt and dried rosemary.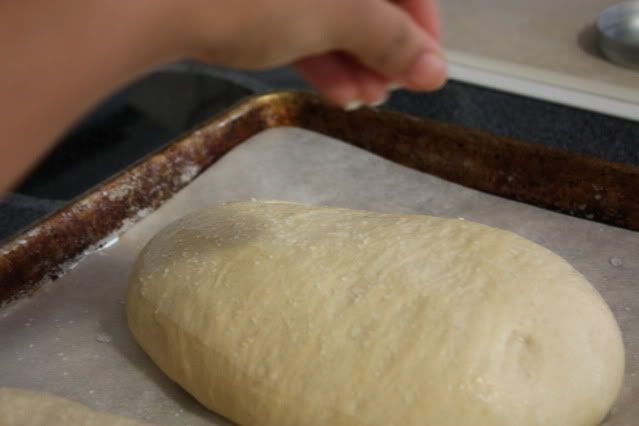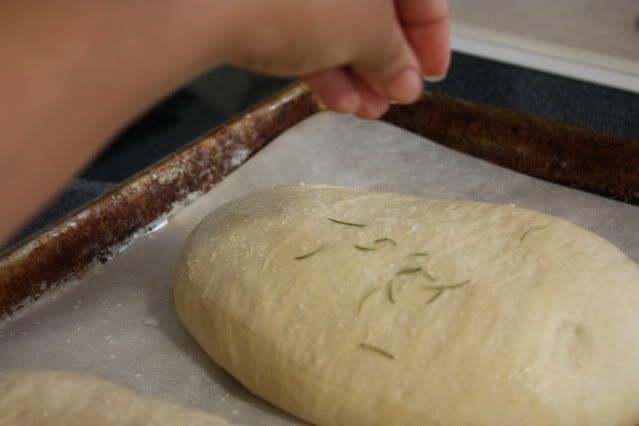 Bake in the preheated oven for 20-25 minutes or until golden brown and if you're fussy the internal temperature is 190 degrees.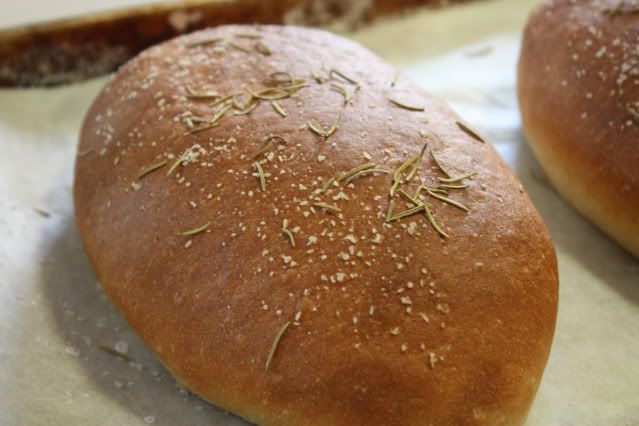 Then tear off a hunk and go dip in your favorite substance. Oh yeah.