I love the moments when I can just sit back and observe the other members of my family. This particular night, Mr. Maricucu in a moment of total self-sacrifice told the kids to grab their favorite game to play a round before bedtime. Why self-sacrifice?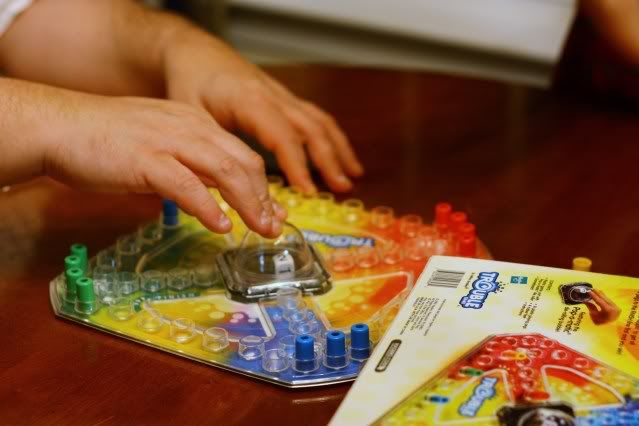 Well, allow me set the scene for you. A six year old fully caught in the throes of needing to win, needing to succeed which is totally developmentally appropriate but flies in the face of good sportsmanship. His younger brother a very fickle four year old who's very laid back nature and slowwwwww as molasses cooperation flies in the face of his brother's patience. Add the very analytical father, a techie by trade, who is not caught up with the day to day of the above scenario and let's just say it played out like a tense UN meeting between Venezuela, Germany and the US.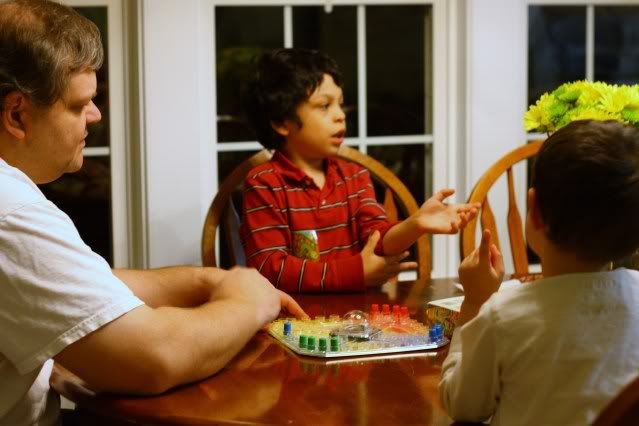 It was hairy there for a while, three seemingly different languages being spoken, some pounded fists (that four year old *tisk, tisk*) and a refusal to take a turn stalling the progress of the game. Eventually the game did continue and Mr. Maricucu despite initially being behind won the game. Oh yes, he plays cutthroat even with the young'uns. Where was the little girl while all of this tense action was happening? Apparently she's the journalist of the organization and took detailed notes to make sure I stayed on top of my accurate reporting.