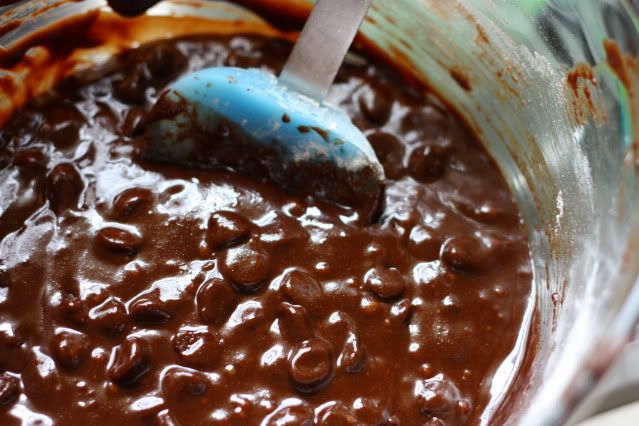 That's right folks, chocolate bliss cookies. I think these came from a baker's chocolate box and then ended up on the kraft site. I always lose the recipe and then when a craving hits I'm frantically googling for this one bowl fudgy treat until I find it. My one gripe? I can't stand to see this recipe circulated throughout the 'net without the addition of salt. The first time I made these cookies I was so disappointed because what should have been deeply intense almost brownie like cookies tasted so

flat.

So please go ahead and give these a try but don't forget the salt.

Also a note: The original recipe listed a smaller quantity of flour because the cookies included nuts which prevented overspreading. You know the routine around here with nut allergies so I included the larger amount of flour but I imagine a bunch of chopped pecans in these would be absolutely amazing.

Chocolate Bliss Cookies
adapted from Baker's Chocolate



16 oz (2 2/3 cup) semi sweet chocolate chips -

divided

3/4 cup firmly packed brown sugar

1/4 cup (1/2 stick) butter -

softened

1/2 cup flour-

if not using nuts increase flour to 3/4 cup.

1/4 teaspoon baking powder

2 cups chopped walnuts -

can sub pecans and in fact I find them a bit sweeter


1/2 teaspoon salt


Preheat your oven to 350 degrees and line some baking sheets with parchment.

In a microwave safe bowl place 1 1/3 cup of the chocolate chips. Nuke for about 2 minutes, stirring halfway. Sometimes I need another 30 seconds more to melt them loosely. You'll see why later.





To the melted chocolate add the brown sugar and stir to combine well.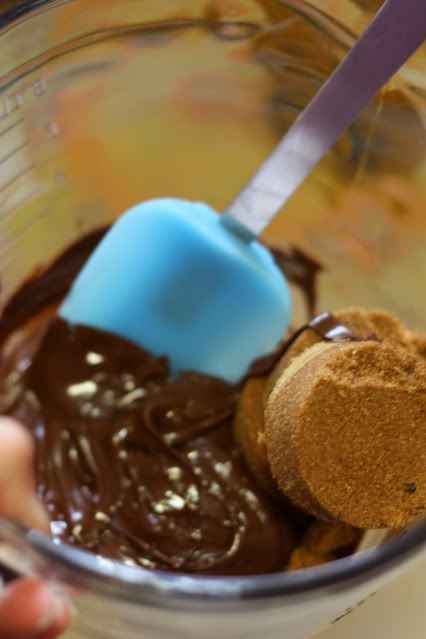 Now add the butter. You see how my chocolate looks a bit thick? I will usually nuke for 30-45 seconds after incorporating the butter especially when the house is a bit cooler in the winter.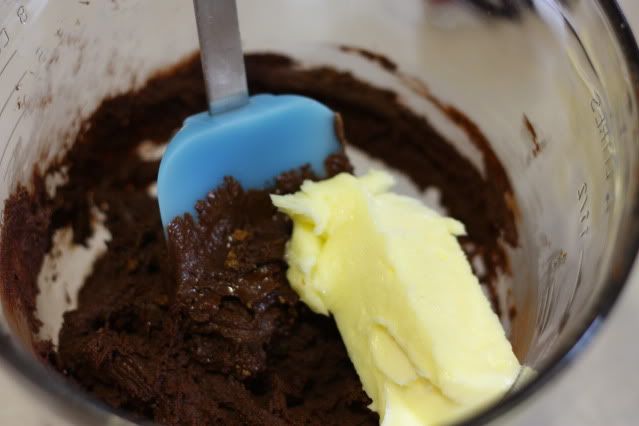 Mix in the eggs.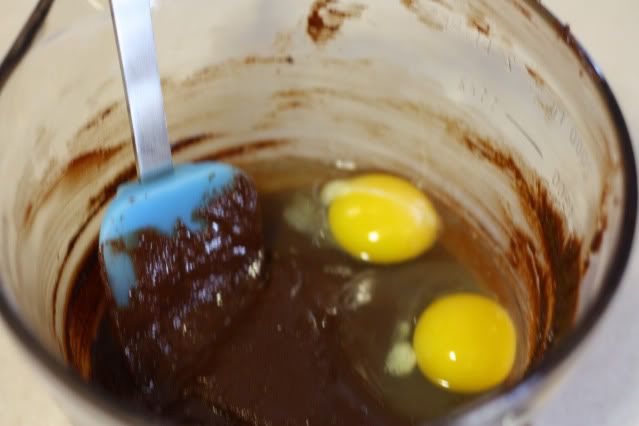 Then the salt and vanilla.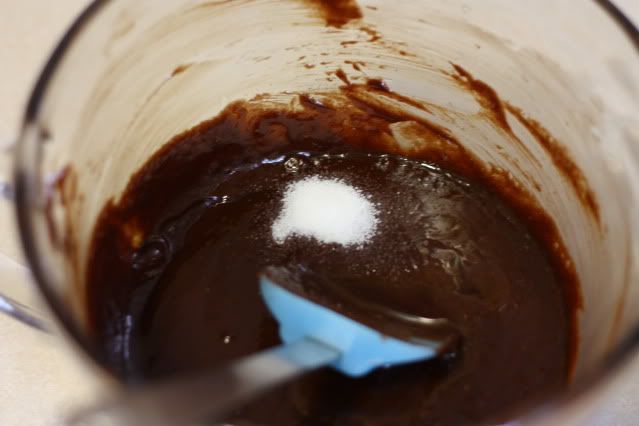 Toss in the flour and baking powder. Gently fold it in.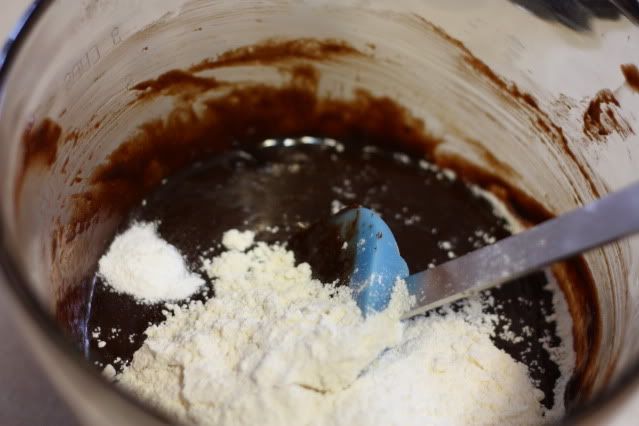 Finally fold in the remaining 1 1/3 cup of chocolate chips.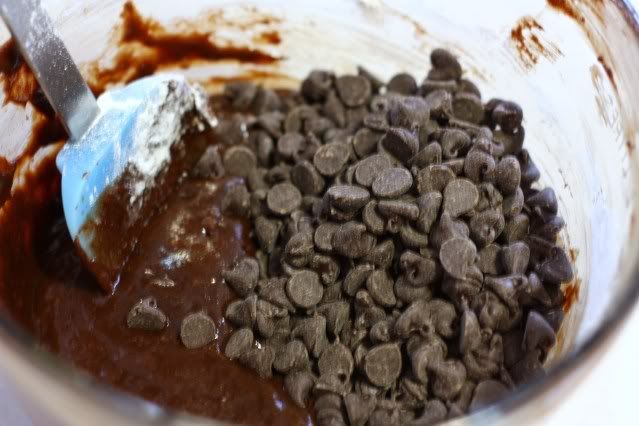 Mmmmmm. Batter shots get me every time.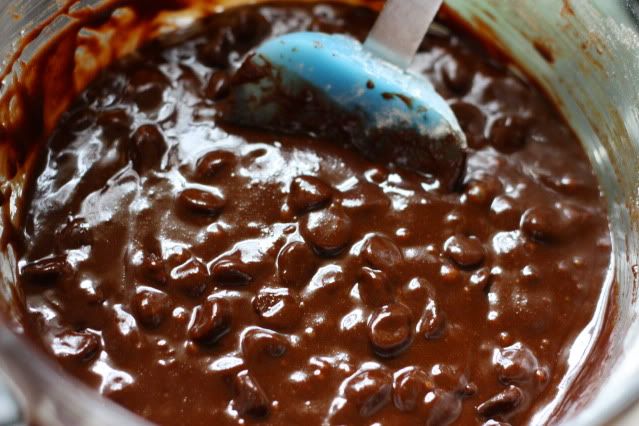 Using my favorite cookie scoop I just plop out the batter onto the parchment. My scoop doles out about 2 teaspoons of batter and I can fit 12 cookies on a half sheet baking pan. If you don't have a cookie scoop you can scoop out the batter in rounded tablespoonfuls leaving about 2 inches between each cookie to allow for spreading.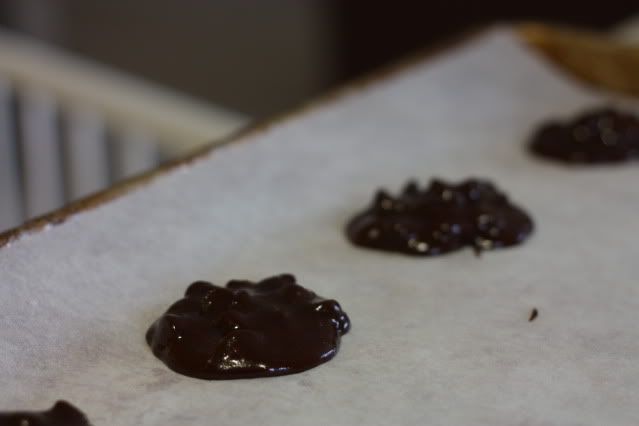 The look of disappointment when I put her out to insert the cookies in the oven.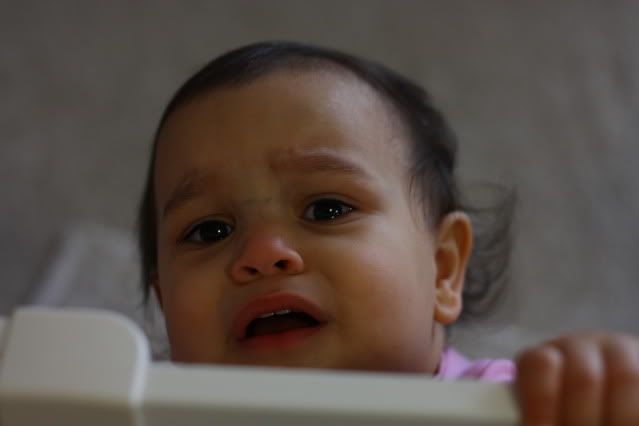 Bake cookies for about 12 minutes or until shiny on top and just set but not overcooked. They will puff up but come back down as they cool. Allow to cool for a few minutes on the baking pan then move to a cooling rack (or your mouth).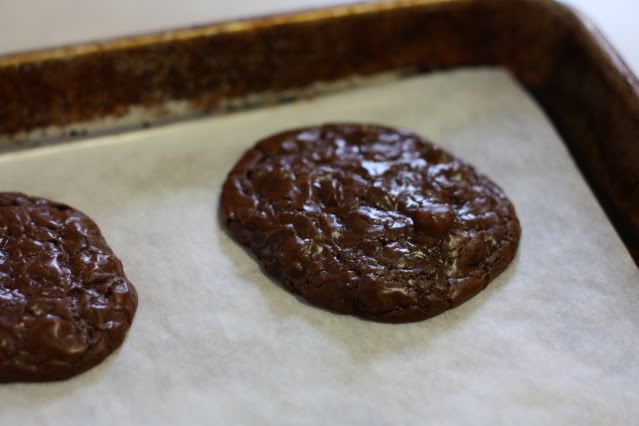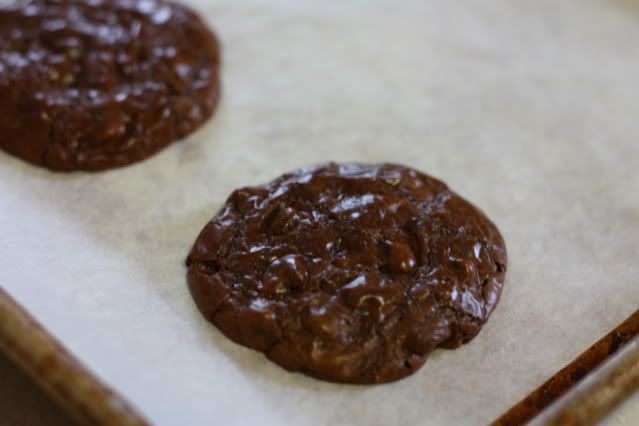 See? Crackly top like a brownie.





Fudgy and tender insides like a brownie. These are definitely addictive and you can't beat washing out just one bowl (or if you have kids around you might be washing out a cleanly licked bowl).