Last year a friend of mine mentioned she was making a king cake to share with her kids. I thought it was a wonderful idea and one my children would definitely enjoy so I bookmarked what looked like a good recipe and forgot. Until last Monday. Tuesday we went to the library (which included a book on mardi gras) and got home way too late to make any kind of dent on the king cake process.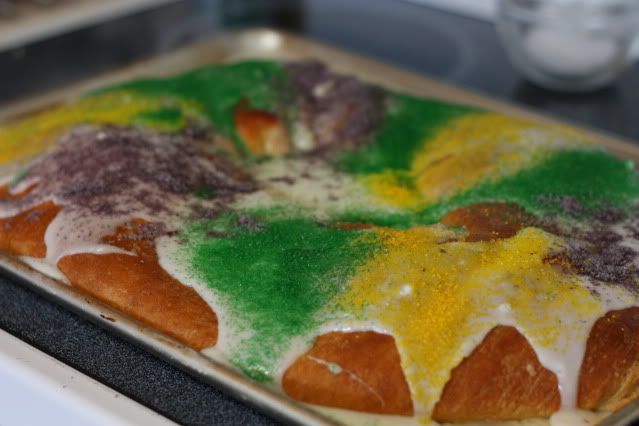 So on Tuesday night I threw together the recipe in the food processor (my cheat to bread dough in 2 minutes) and then let it rise overnight in the fridge. The next day was a little busy and being distracted I glossed over the instructions and went straight to the ingredients list for the filling. When I saw 4 cups of powdered sugar and cream cheese listed together I knew what to do, so I had my oldest mix that together. I threw it in the dough, formed my ring and let it rise. As it was baking I tackled the icing - but oh the horror. The instructions read, "use remaining 3 cups of powdered sugar to make icing". That's right folks, I was only supposed to use one cup of sugar in the filling. Being too late for regrets I kept plugging away. As my king cake oozed cream cheese frosting in the oven I mixed the icing. I threw it on, added the colored sugar and then tasted. Wayyyyy too sweet. The kids liked it but even aside from the super sweet filling I was not impressed with the dough. Sure it was fragrant with lemon zest and nutmeg, rich with egg yolks, milk and butter but man alive I'm sure there's a reason most good Cajun families

buy

their king cakes from a bakery. Too much work for what basically stiffens up from one night's sitting. I also didn't put the bean in fearing one of us (me!) would forget and end up needing dental work.





I've been itching to knit something again so I cast on a little something something for myself to use up this unplied yarn. It's very soft and a joy to work.





Next up - hummus! See you around.