But little girl's Ottobre tunic/dress is done (turn to
page 5 here
to view their design). I still have to finish sewing the matching pants (made from the solid blue fabric) but I'm not sure when that will happen so I figured I'd post this one first.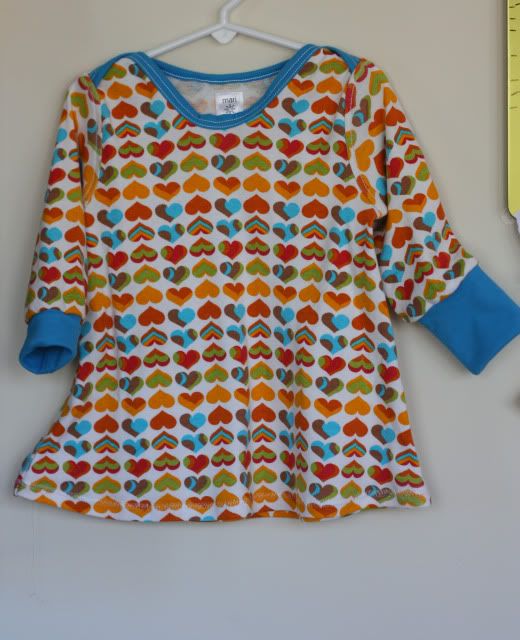 The blue in the heart fabric is much darker in real life and a closer match to the solid ribbing. I love that the sizing is generous and the cuffs are long enough to fold up, then let down when the child grows. The overall length of the tunic is very generous and I can see getting two season's worth of wear out of this piece (well, barring extreme growth spurts). I did leave off the kangaroo pouch because 1) I was not up to fussy cutting a pocket for a baby who does not use them and 2) I found it a bit too busy for the design.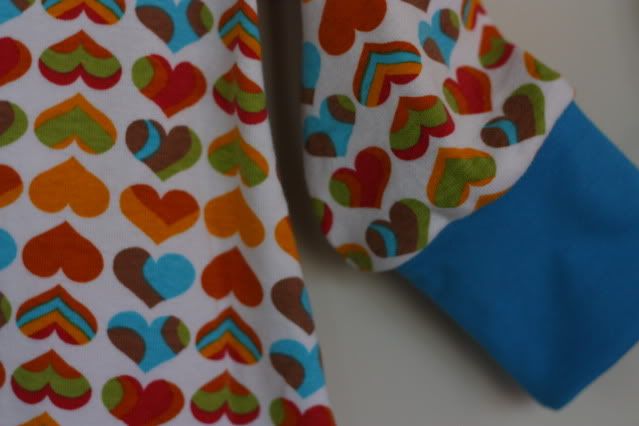 The binding around the neckline gave me fits but only because I had fallen out of habit. For the next one I would use a stretchier rib knit for the binding and pull it just a bit more taught on the inside curves.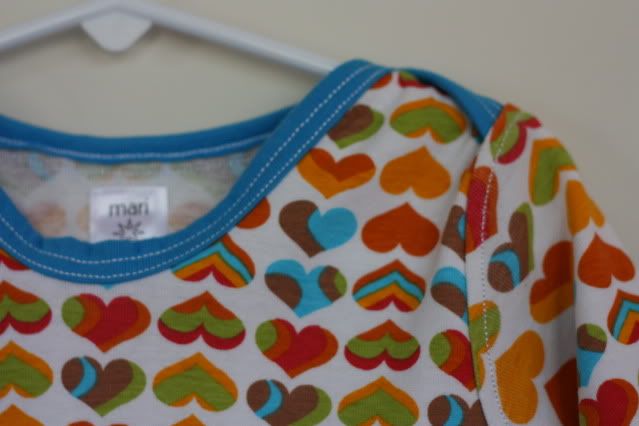 For the hem I did a faux coverstitch hem by using one of the decorative hem stitches on my machine. I used to own a coverstitch machine but really did not use it often enough to justify keeping it around. If you've ever had trouble with hemming very stretchy fabrics on your sewing machine I highly recommend the tip at Pam's
Off the Cuff blog
(scroll down to the post titled "Two Ways To Tame T-Shirt Hems"). Just be sure to adjust the presser foot pressure on your machine to a lighter setting if it's a feature on yours.