Mmmmmm, flan. If you've ever had mediocre, cloyingly sweet, watery, gelatinous, poorly executed flan in restaurants - please accept my apologies. Originating from the french creme caramel, flan is indeed a rich custard cooked over a layer of caramelized and almost burnt sugar that creates a bath of sweet syrupy sauce when unmolded. However, since we Latin Americans have this penchant for condensed milk, the variations for flan you'll find in these countries (Caribbean, Central and South America) usually include condensed milk instead of creme and sugar, which makes (in my never so humble opinion) a much richer custard with a deeper dairy taste. Right about now there's a classically trained pastry chef rolling his eyes at our Latin American adaptation of this classic dessert. Roll away buddy, roll away.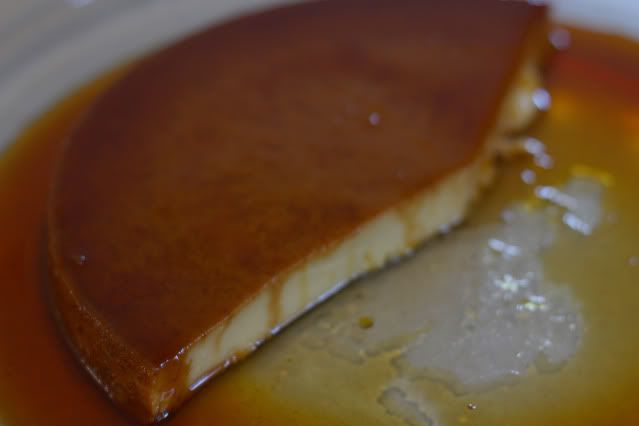 I'm not one to stick to tradition for the sake of tradition. If I come across a more delicious version of a recipe I'm an early adopter all the way. In fact, our family's recipe for arroz con pollo (chicken and rice) is now the version my mom's Columbian friend shared with her 10 odd years ago. So while I admire the French for their pursuit of perfection and good taste, I'll go with the condensed milk version of flan any day purely for taste. Plus, with only three ingredients (not counting vanilla and salt) if you can memorize this recipe you'll have a delicious and impressive dessert in your back pocket that not many people attempt for fear of failure.

I mean if you've made the caramel base, then you've already done the hardest part of making a flan. I remember my mom cranking these out the minute she got wind of a visitor coming to our house. By the time she'd hung up with our potential victim, um visitor, she had the caramel poured and was mixing up the custard.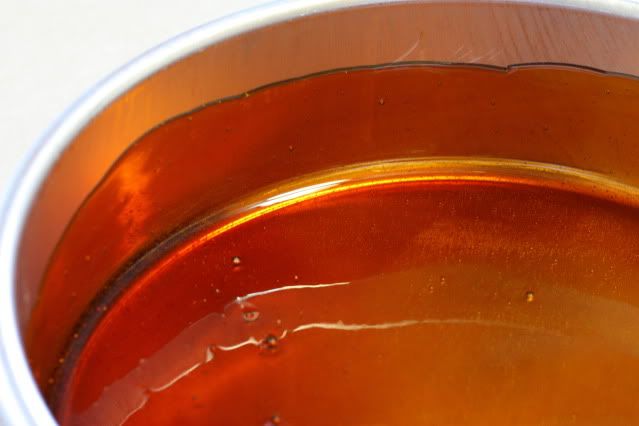 Flan

caramel
3/4 cup sugar
3/4 cup water



custard


5 eggs
1 (14oz) can sweetened, condensed milk
1 (12oz) can evaported milk -

pretty please use whole milk.


1 hefty pinch of kosher salt, about 1/4 tsp
1 healthy slosh of vanilla, about 2 tsp


First, prepare the caramel, swirl it in your 9" pan and set it aside. Preheat your oven to 350 degrees then crack your eggs.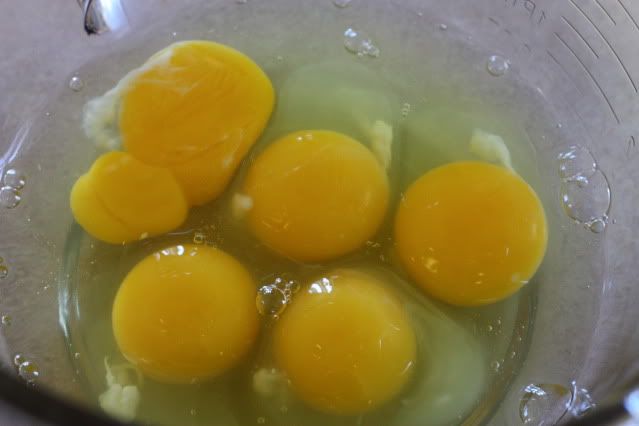 To your eggs add the condensed milk and mix well with a whisk. You don't want to beat air into this, just make sure it's well blended. Also, be sure to scrape the condensed milk can well and get out every last drop.

Here's a tip, not a major revelation, just something simple. When beating a bunch of eggs poke each yolk with your whisk/fork/utensil to break it. That way when you beat the eggs you're not chasing around a lone yolk in the bowl. Unless you find frustration fun, then by all means have at it.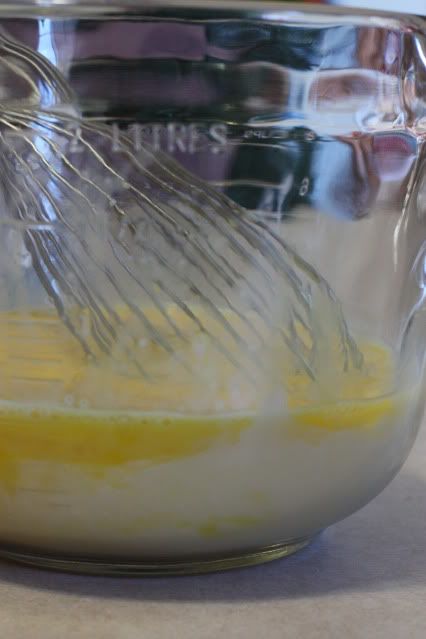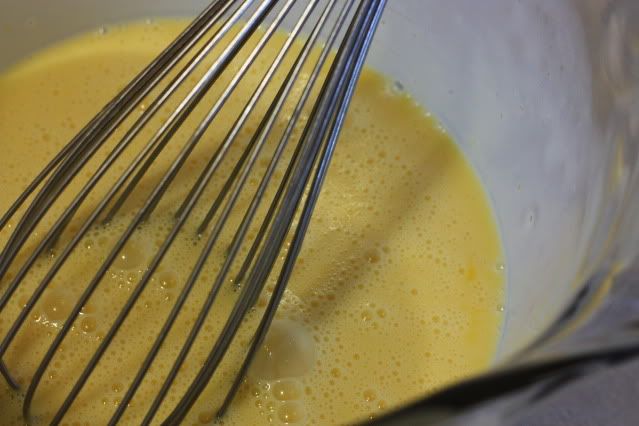 Add the salt and vanilla. If you've ever wanted to eyeball ingredients, try it here. Steady hands are all you'll need to slosh in some vanilla and then throw in the pinch of salt. That is of course, unless the kids are milling about in the kitchen, then you might want to break out the measuring spoons. Hint of vanilla and enough-vanilla-to-get-you-wasted are two very different things.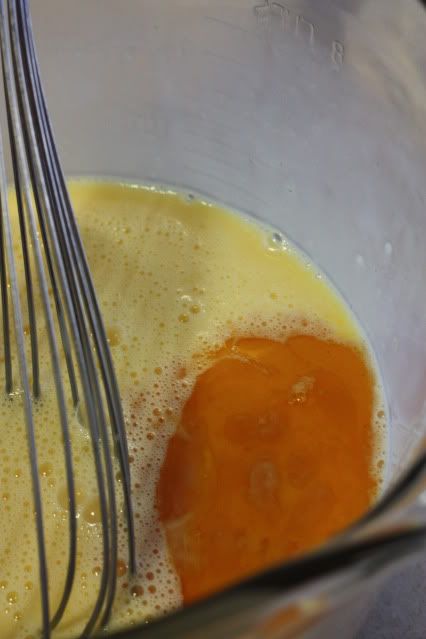 Finally, mix in the evaporated milk.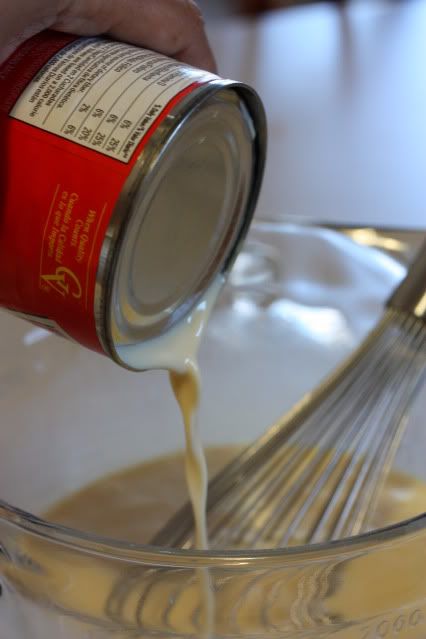 Grab your caramel enrobed pan and fine mesh strainer.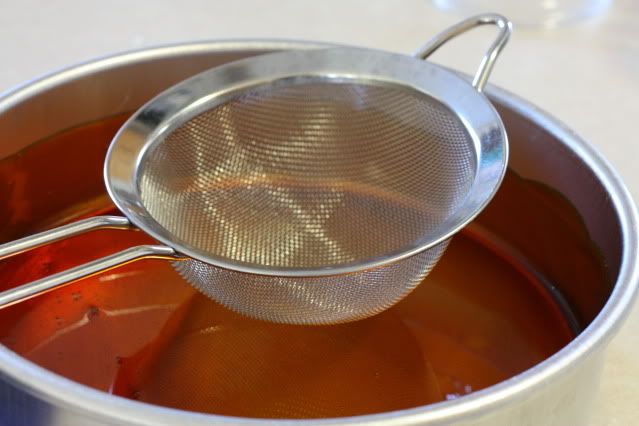 Pour the custard through the strainer and into the pan. Why use a strainer for the custard?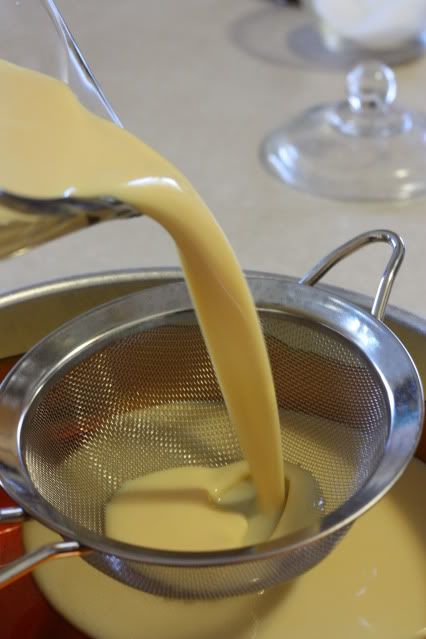 This is why. You'll always have bits of undissolved egg that if left in the custard become tough when cooked. Pouring through the strainer ensures a creamy, smooth flan.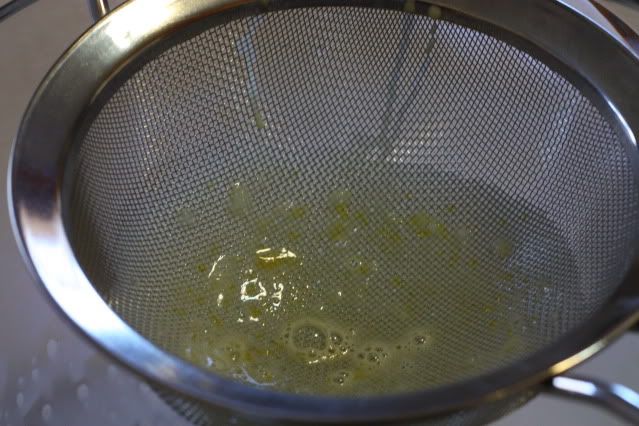 Place the flan in the middle of your oven and bake 25-30 minutes or until the center doesn't jiggle like liquid anymore. This is where the French and I part ways. I know most recipes for creme caramel or flan will say to bake it in a baine marie (water bath) but I find that with the very stabilized condensed milk (vs. the creme and sugar mix) and low heat it's not necessary.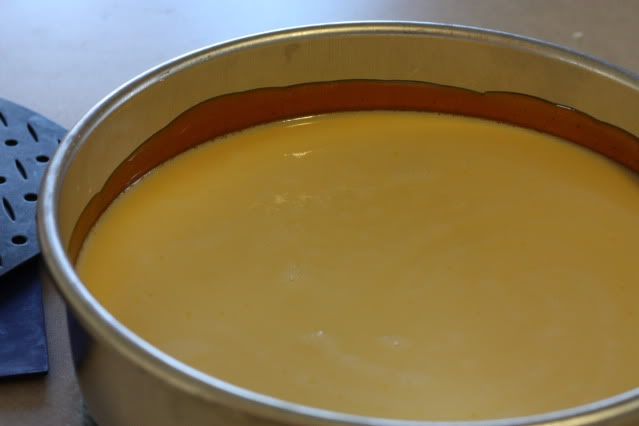 Now as far as testing for doneness, this is one of those "by feel" things that are hard to convey via the written word. So here's a little video of my flan ready to come out of the oven. I'm tapping the pan with the handle of a spoon so you can see that the flan will wiggle like very set pudding but

not

like the liquid jiggle it had before going in the oven. If you were to gently tap your fingertip to the top center surface of the flan it would feel firm and not fluid. But for this size flan, in this size pan and an accurate 350 degree oven it should be ready in about 25 minutes.




Once out of the oven you'll notice the caramel has bubbled up around the custard. Now here is why I choose metal over glass when I make flan.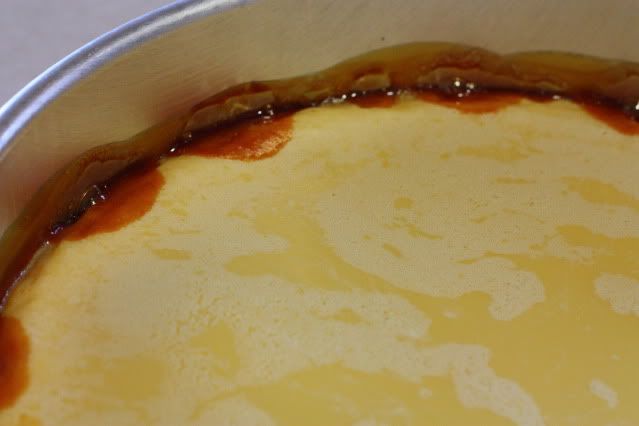 Purely due to my lack of patience. I want flan and I want it yesterday so when that baby comes out of the oven I fill a larger pan with ice and water.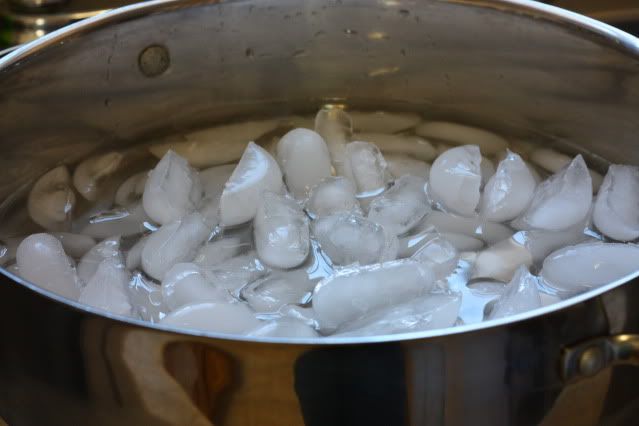 Then I gently put in my pan of flan. In about an hour or two it should be chilled enough to eat. In case you're wondering and have never experienced the wonder that is shattering pyrex,

never

try this with glass. It will shatter like napalm and probably feel like it too. I'll boil sealed cans of condensed milk until the cows come home but I'm all about the rules when it comes to glass bakeware.

If you've used a glass pan allow the flan to cool completely before placing in the fridge to cool. Warm flan is about as good as cold gravy. You need to chill it.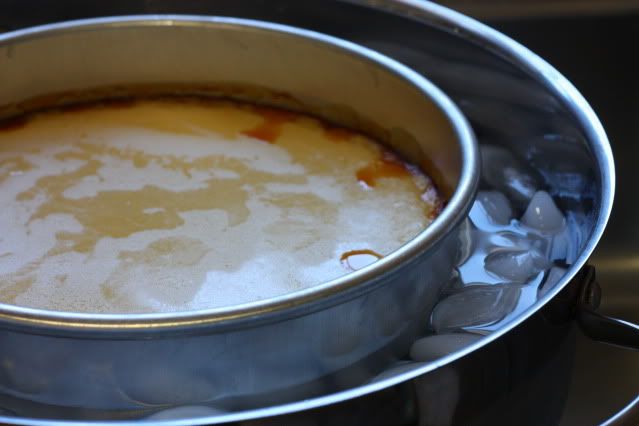 To unmold, grab your chilled flan and a large serving plate.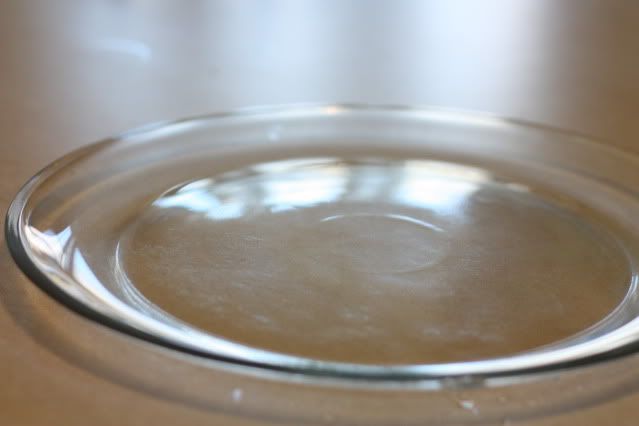 I had a last minute errand so I stuck my flan in the fridge and you can see that the caramel has floated to the top. That's okay. Run a butter knife all around the edge between the pan and the flan to ensure it will come out cleanly.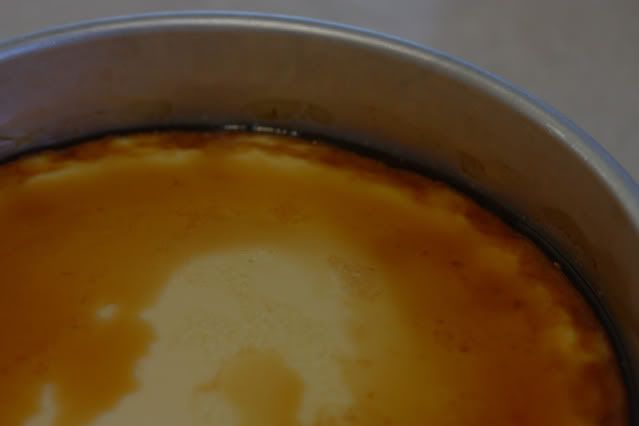 Place the serving plate over the pan, then flip the flan quickly. Really, you need to do it quickly enough that the caramel doesn't end up all over you. Not lightning speed, just swiftly. Before lifting off the pan do a little test jiggle. If you've made enough caramel then you'll have heard a suction sounding plop as the flan hit the serving plate. If you didn't hear it, gentle lift one corner of the pan to see if there is still some resistance. If it's still stuck just tap the pan and it should fall right out.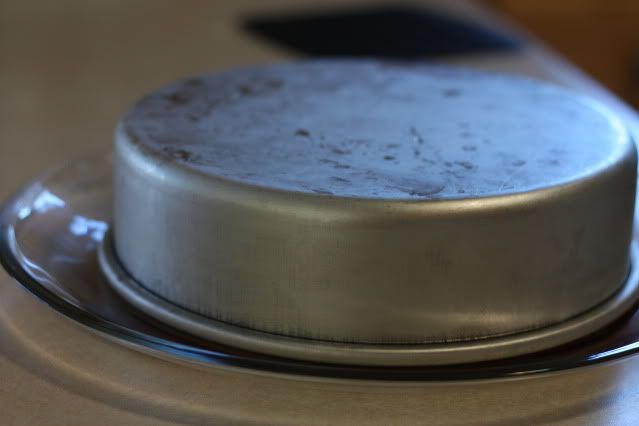 Here's the pan after unmolding. Yes there is some caramel left in there but I make enough so that I can unmold the flan chilled instead of hot.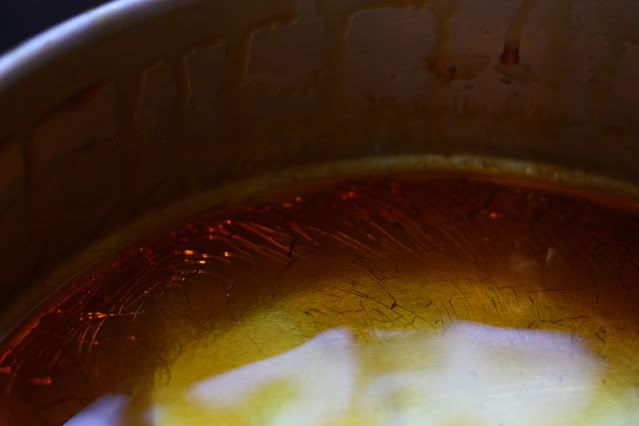 Sniff, look at that beauty.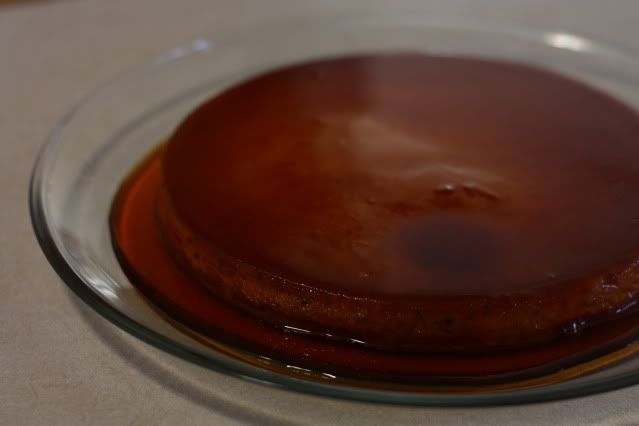 Then, all that's left is serving yourself a piece of flan. See the smooth texture inside?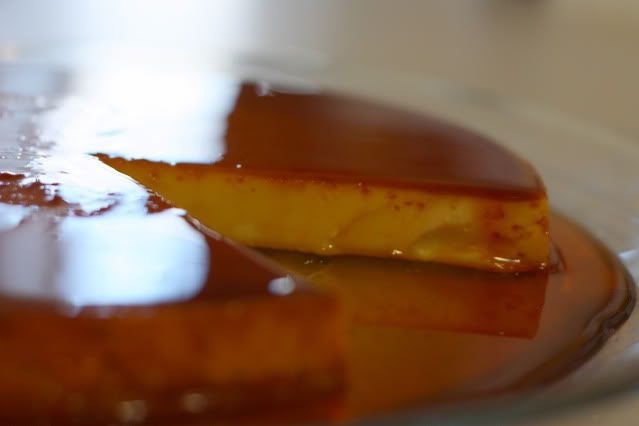 Oh, my, goodness.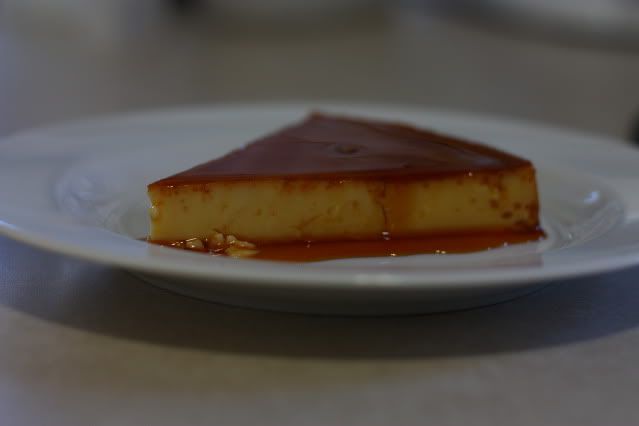 Excuse me while I have a moment. See the instant sauce made by the caramel? Looks hard, but it's so easy.