Okay, you people that live with a Cuban bakery at every corner, not a peep from you about how this is unnecessary. You're preaching to the choir. For the rest of us, that have tasted these lovely little morsels yet only taste them when our Mami flies them up via Southwest, this one's for you.

So what's a Cuban pastelito? It's a kissing cousin to the Dominican pastelito. Cuban pastelitos are baked, and encased in puff pastry that has a slight swipe of sugar syrup at the end of baking giving it the perfect hit of sweetness. Yes, even the savory ones. Now, let's say you're at a party that has a tray filled with Cuban pastelitos and you notice there are different shapes. Each shape represents a different flavor, think of them as a Russell Stover box of chocolates that doesn't need the paper guide. Let me give you a primer that will help you avoid embarrassment. Round ones are typically beef, squares are guava, triangles are guava and cheese (cream cheese sweetened filling), cylinders/tubes are cheese. There are some other varieties like coconut that can throw you for a loop but the standards rarely deviate from their designated shape. Now you too, can pass for Cuban, even if it's only for oh say 5 minutes.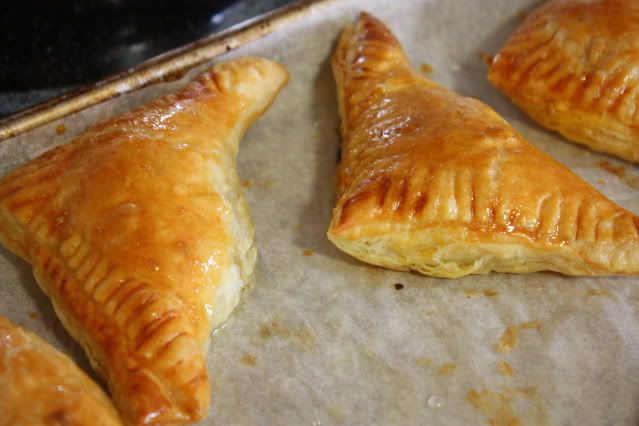 When I make a batch of pastelito filling I typically save a small amount to make a micro batch of Cuban pastelitos. They each satisfy a different craving so yes this is necessary for me. My fakeout tool is frozen puff pastry. You could try and make your own puff pastry but it's very labor intensive. Another alternative would be to make what's called rough puff pastry or shortcut puff pastry - a bit more accessible but again, still pretty labor intensive and I think best for something where the highlight is the pastry like cheese straws. Usually I grab the frozen stuff for this application.





Follow the thawing instructions on your package. Then take out a sheet of pastry and place on a lightly floured work surface. Roll out the pastry sheet to about 12"x12" then cut into nine squares. You

must

have wavy edges and a slightly larger center square like mine otherwise they will not taste the same. Okay so that's not true but it makes me feel better.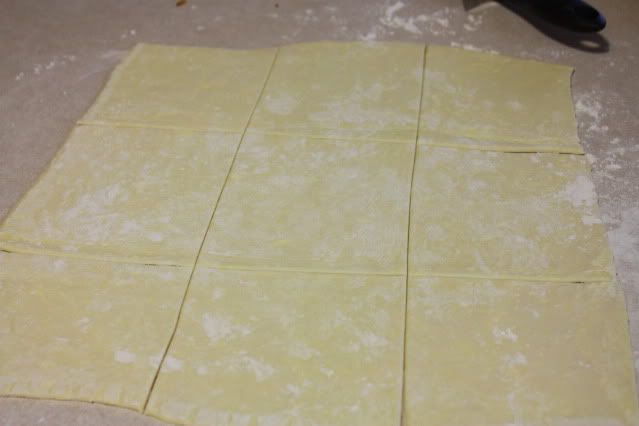 Make a little egg wash by beating an egg with a tablespoon of water. Then brush the egg wash on two adjoining sides of each square. Place a tablespoon or so of filling on each square.





Bring one corner of the square over the filling to make a triangle. Seal the edges with your finger as you push out excess air from the center of the turnover/pastelito. Yes, I've broken the rule about pastelito shapes matching their corresponding filling but I'm lazy and I hate waste in the kitchen. So squares folded into triangles it is.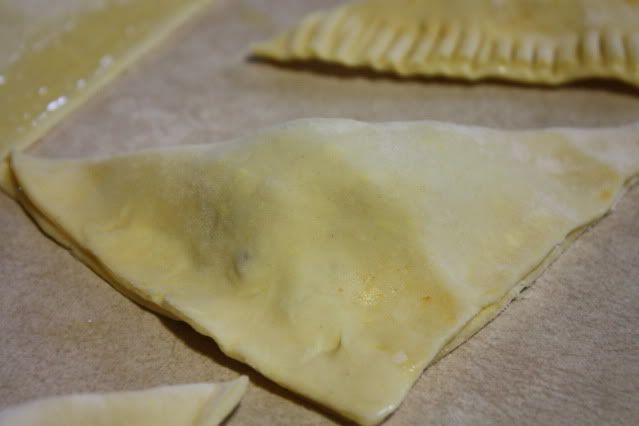 Then crimp around the sealed edge with a fork. At this stage you have choices. These unbaked pastelitos can go in the freezer, ready for a pastelito emergency on another day or you can bake them now.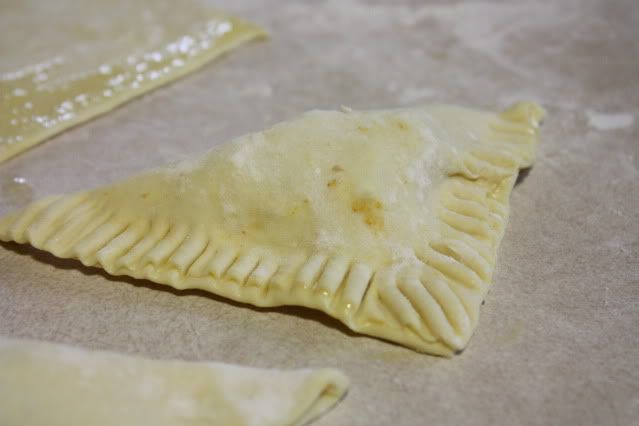 When ready to bake preheat the oven to 350 degrees and brush the pastelitos with egg wash. Place in the oven and bake for 25-30 minutes or until light golden brown.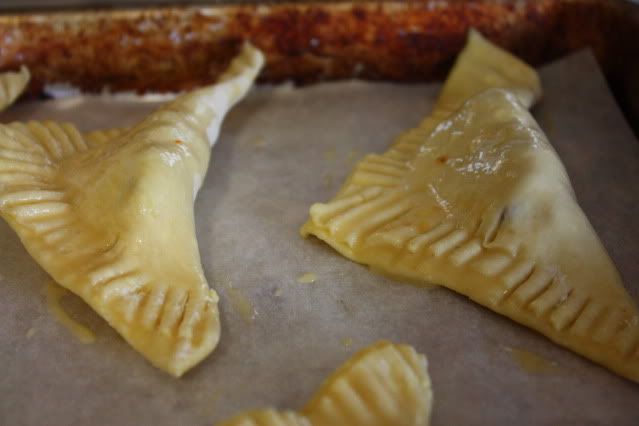 While the pastelitos are baking it's time to make the sugar syrup. Place 1/4 cup of water and 1/4 cup of granulated sugar in a heavy saucepan over high heat.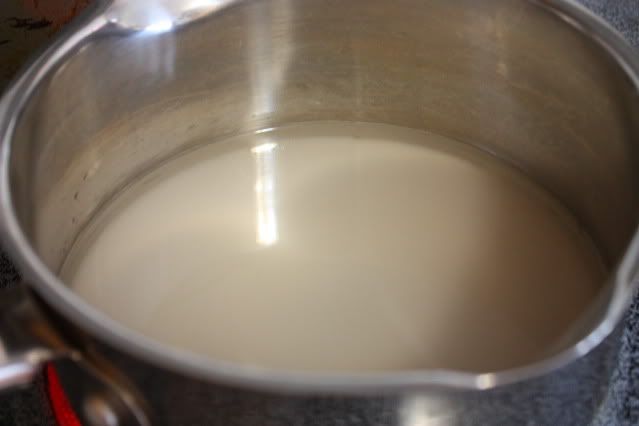 Bring to a boil and allow to boil for one minute. Then turn off the heat and remove the saucepan from the burner. The sugar syrup will look runny but will thicken a bit as it cools.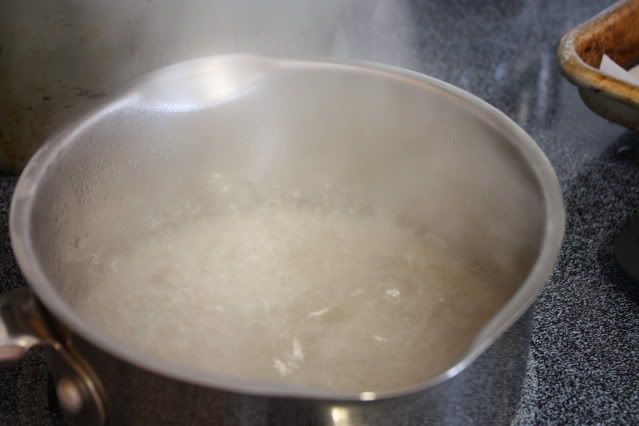 Once the pastelitos are light golden brown, flaky and delicious take them out of the oven.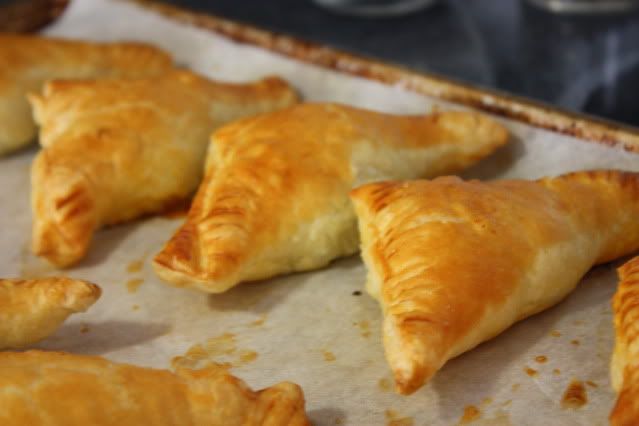 Brush each one with sugar syrup. I know this will seem strange to some but it's not a cloying sweetness, just a slight contrast to the very savory filling inside.





Return the pastelitos to the oven and bake for another 5-6 minutes. You want the sugar glaze to just soak in a bit and it will set up after the pastelitos cool.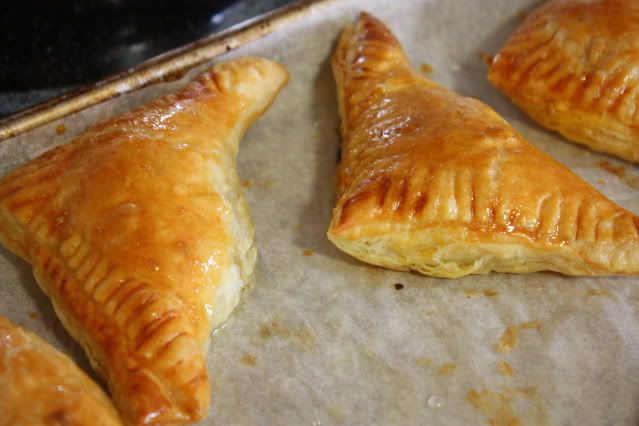 But I can't confirm that since I rarely wait until they cool.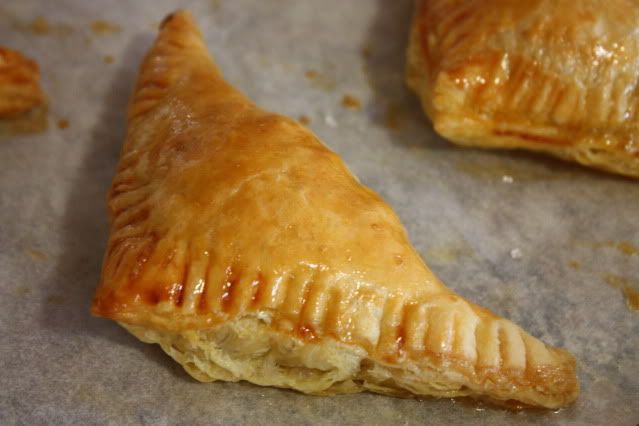 Oh yeah, this is heaven.