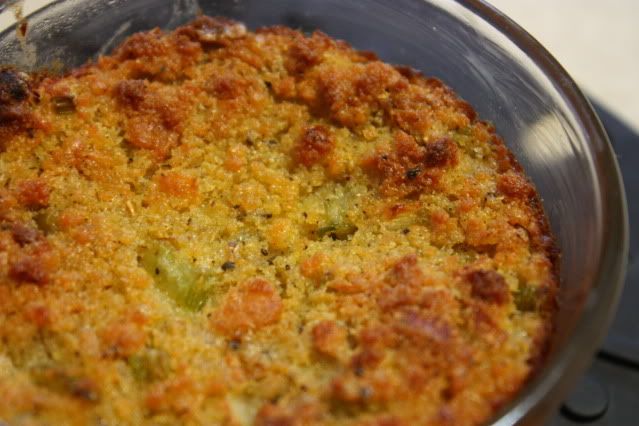 Mmmm, cornbread dressing. Obviously I did not grow up with this culinary deliciousness but boy have I latched on and made up for lost time. Thanksgiving is not Thanksgiving without cornbread dressing. In fact, were it not for my potato loving husband I would make only this instead of mashed potatoes. But whenever you start spewing craziness like, "maybe we could do it without the potatoes" you realize how attached people are to their holiday side dishes.

This is not a fancy recipe, but the flavors are right on. There are no eggs in this dressing which really, the addition of eggs to stuffings/dressings has always befuddled me. I'm wondering if it's dressing or bread pudding. No chestnuts, mushrooms (although, mmmm for a sourdough dressing recipe) and definitely NO oysters. Shudder. Let me get this off my chest. I love lobster, shrimp, scallops and crab. Love the stuff and oddly enough always have even as a kid. But get into the bivalve territory and you'll lose me. I do not do mussels, oysters or clams. No way, no how. Why? They look like large quivering loogies. Sorry! I saw Paula Deen making her famous oyster dressing the other day and when she dumped in the oysters as well as the oyster liquor I exclaimed to Mr. Maricucu, "she just tossed in a bowl of loogies!" I'm fully aware that my dislike for oysters is totally irrational but I figure we're all allowed a get out of jail free card for at least one or two food items. This is mine.

This recipe is a copycat of the Cracker Barrel cornbread dressing that I've adapted but it's very similar to most you'll find in the southern states. I've seen recipes that call for saltines but I find they get pastey. Other recipes call for giblets but that's when I pull out my other card, blegh. This one uses day old cornbread and biscuit crumbs. Yes, crumbs. The cornbread and biscuits are either grated by hand or tossed in your food processor. These crumbs are tossed with buttery sauteed aromatics and then moistened with broth. Very simple but very addictive and delicious.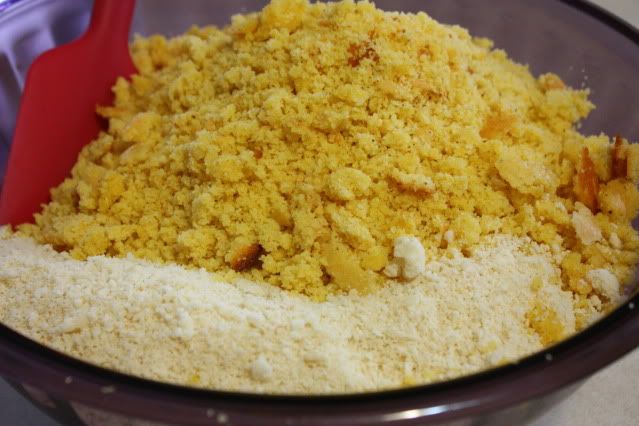 Cornbread Dressing
adapted from Cracker Barrel

2 medium onions, chopped
4 ribs of celery, chopped
1 stick of butter
8 cups grated cornbread crumbs (2 quarts)
4 cups grated biscuit crumbs
2 teaspoons poultry seasoning
2 teaspoons ground sage
1 teaspoon fresh ground black pepper
1 quart + 1 can (14oz) chicken broth
salt to taste


Preheat your oven to 400 degrees. Butter two 8x8 pans or one 9x13x2.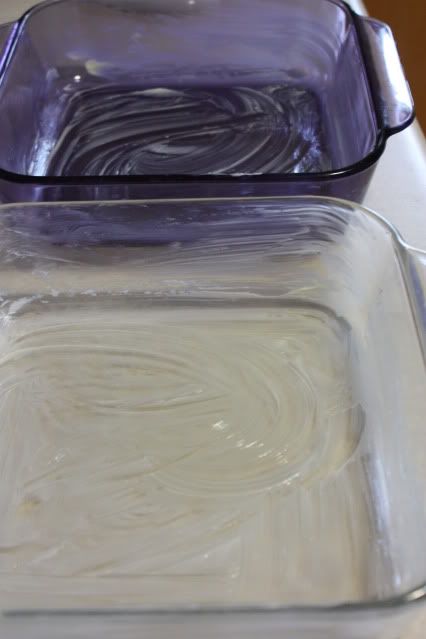 In a large saute pan add the onions, celery and butter. Turn the heat to medium-high and saute until the onions have softened.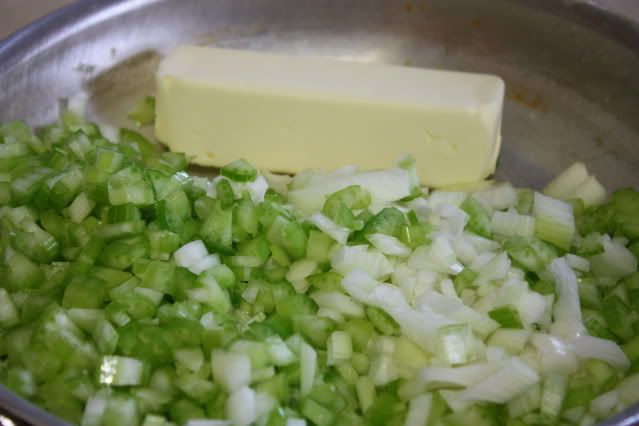 Then add the sage, poultry seasoning and black pepper. Saute for another minute or so.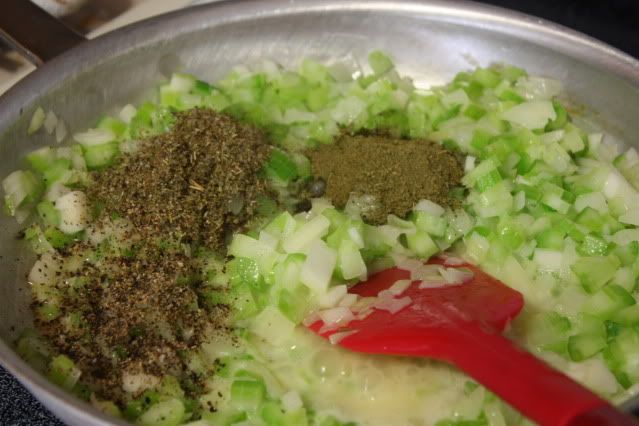 Dump the buttery seasoned vegetable mixture into your large bowl full of cornbread and biscuit crumbs.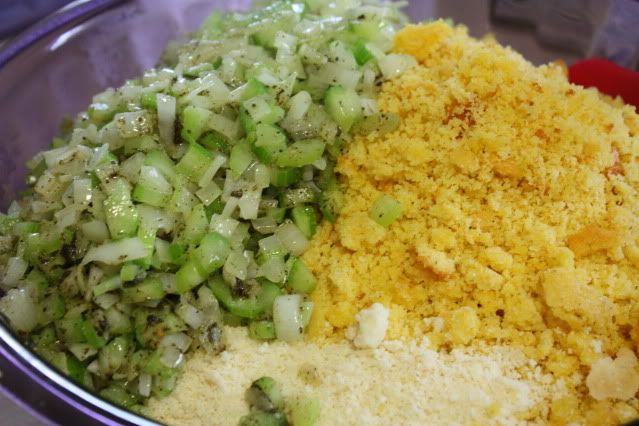 Toss together. Mmmmm, go ahead and take a whiff.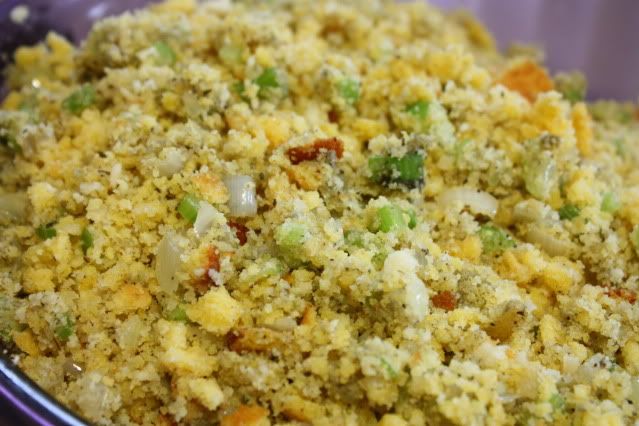 Now to moisten the mix. Add a good bit of the broth and mix. Then keep adding broth until the mixture resembles a thick muffin batter.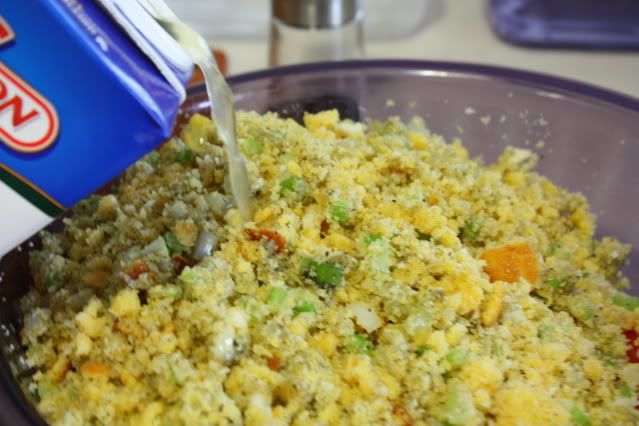 See? Muffin batter, banana bread batter or corn bread batter. Basically a thick mix but not overly soupy.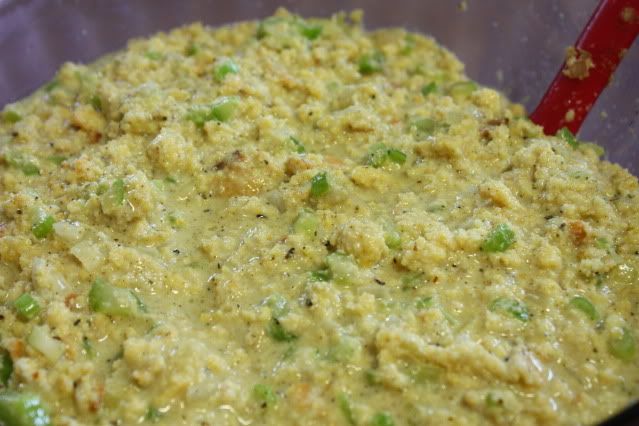 Pour into the buttered pans and bake for about an hour or until well browned on top.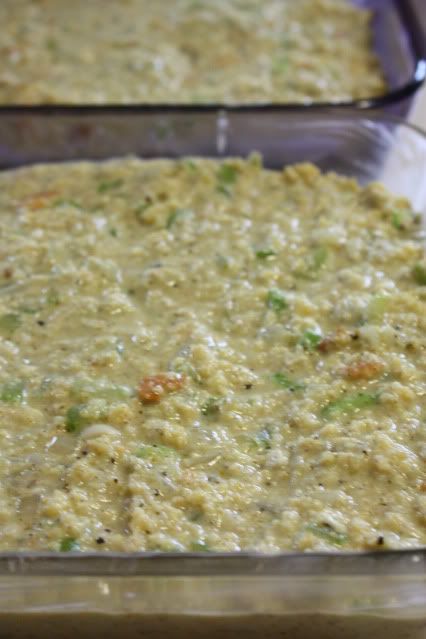 Since I was making this in advance for Thanksgiving dinner I slightly underbaked these two pans so that when I reheated covered in foil they would be just right.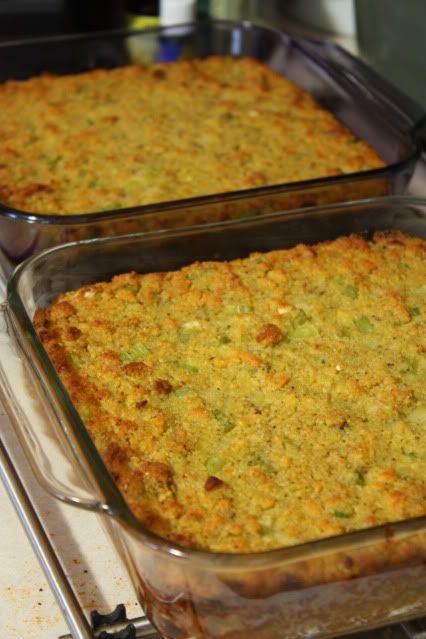 But that same day I baked up a little custard cup portion to just the right degree of crusty outside and soft middle. Mmmmm.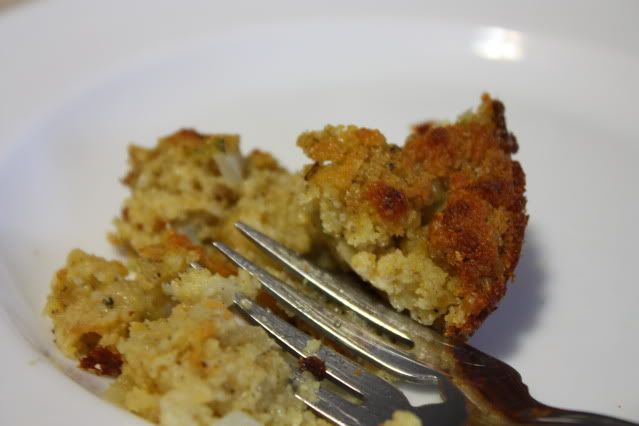 Of course cornbread dressing is nothing without a little cranberry sauce. At least in my book. My Thanksgiving plate. PW's mashed potatoes, her cranberry sauce, my cornbread dressing, my caramelized onion green beans and finally the turkey and gravy from cracker barrel.