Gearing up for a laid back Father's Day around here. Funny how a day that's suppose to be about honoring dad and relaxing as a family means cramming the whole weekend "to do" list into Saturday. Ahh but now we've come in from the heat and having done some outside chores which for the kids means running around the yard like banshees are recuperating inside the home.
I promise I haven't forgotten to post the jam session (ha! I kill me. The closest I ever got to playing an instrument was the recorder in elementary music class.) I'll post beginning of this week. Buttttt . . . what's better than homemade jam?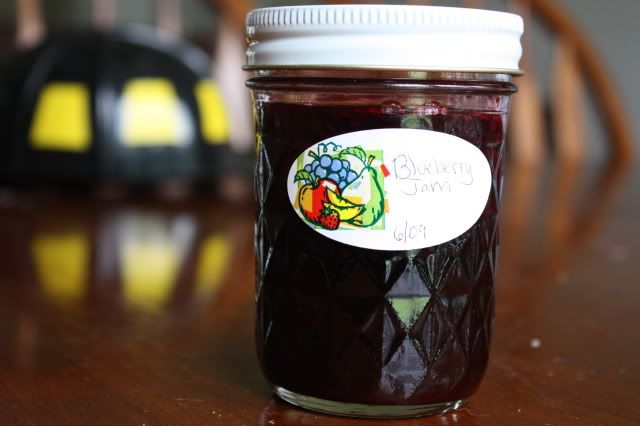 Homemade jam you didn't have to make yourself! A friend gifted me this beautiful jeweled blueberry jam with the statement, "and I hope it doesn't taste like dusty flowers". She's a hoot. I'm saving it for tomorrow evening as Mr. Maricucu when asked what he wants for his Father's Day dinner said "french toast, scrambled eggs and bacon". He said it with the authority of a child who was asked what kind of birthday cake he would like. So for my french toast (and I suspect the boys too) I'll be generously spooning some blueberry jam on top. Oh my mouth is watering as I type.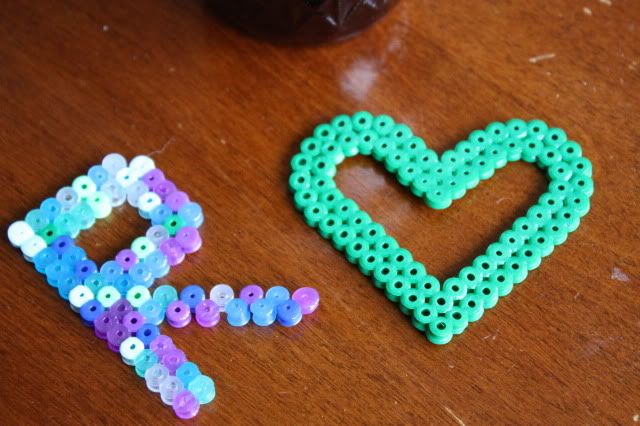 Also, we've discovered the wonderful world of
Perler
beads in this house. Perler beads are great for that child that loves to play with his creations. You just place the beads on the little spiked mat (which holds them in place temporarily) and make a design. Some shaped mats are provided (we have a star and a heart) and some open ended ones too like the square. When the design is complete the adult in the home fuses the beads together by placing the provided paper over the beads and ironing for 10 seconds on medium heat. Presto a tangible little treasure to hang, tote or use in your play. My younger son at three still doesn't have the fine motor skills to place the teeny beads but the oldest took to it right away and made a star completely filled in.
Momma loved it too and generously offered the younger boy her skills to make him a letter, then he requested a heart. It's quite addictive and a great rainy day or quiet time activity for the over 4-5 year old set. I remember seeing a bucket of glow in the dark beads too and think they might be next.